We're Going Bikepacking!
There's some semi-cheesy inspirational saying that goes something like this,
"Do what you love and love what you do."
Let's be honest here. We don't always love a lot of the things we have to do as a small business, like building inventory spreadsheets, solving technology problems, or talking to bankers and insurance companies. But what we do love to do is spend a few days on our bikes in the woods, getting dirty, camping, and eating as much as we can.
That's why our core crew is going bikepacking from July 5-9 on the Oregon Timber Trail! Five days of singletrack bliss in our beautiful Oregon backyard.
We will be unavailable to answer any customer service inquiries at this time. You are welcome to contact us, and we'll get back to you the following week. We will be back in the shop and shipping orders on Monday, July 12.
Why are we doing this?
We don't just sell bike and bikepacking components and accessories – we use them too. We are a group of seasoned cyclists. We have been and still are endurance racers, international bike tourers, trail builders, mountain bikers, pump track dorks, urban commuters, and gravel riders. Yep, we're legit bike nerds.
Riding the Oregon Timber Trail is a good opportunity for some off-grid team building, some new product testing, and content creating. It's important to us to know our products deeply and understand what our customers want and need, and what better way to do that than to really "do it."
Lastly, this year is Old Man Mountain's 25th anniversary, so we are celebrating! Old Man Mountain started in a garage in Goleta, California, as the first racks to fit on suspension bikes. We purchased Old Man Mountain in 2019 and we have big plans for new products and new directions.
What's the Oregon Timber Trail?

Das Oregon Timber Trail is a 670-mile mountain bike route across the state of Oregon, from the Columbia River Gorge to the California border. Formed in 2016, the OTT route runs through some of the Pacific Northwest's iconic landscapes, from big-sky high desert volcanic vistas to deep, lush forests of the western Cascade mountains. Over 60% of the route is single track, filled in by gravel and dirt roads and a sprinkling of pavement to connect it all together. Rural communities along way provide basic amenities and places to regroup, rest and fuel up.
In mid-June, we spent a weekend volunteering with the OTT to maintain trails on the route. See some of our photos here.






The Oregon Timber Trail is divided into four unique tiers, which, from South to North are:
We are riding a modified portion of the Deschutes Tier, roughly 110 miles of mostly singletrack and dirt roads. Since we are based in Bend, we'll be literally riding from Chris and Katy's house, up singletrack to the Cascade crest, down to the town of Sisters, then back up and over the Cascades on the Old Santiam Wagon Road. We'll spend 5 days and 4 nights on the route, camping every night.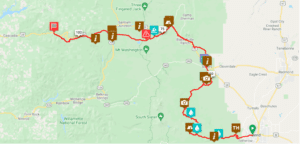 Our full route can be found here on RideWithGPS.
Who are we?
Katy: I'm the "girl on the trip", but I've got some mountain biking trail miles under my belt. Chris and I rode the Great Divide Route in 2003 and I've toured in Central America and in Oregon. I'll be riding my teeny tiny Yeti Beti SB5.
Chris: Chris is the cheerleader and this trip is Chris' brainchild. He has built a lot of singletrack in Central Oregon and has been a mountain biker since the early 1990's when he rode his bright orange GT Karakoram in Oregon's Coast Range. He'll be riding his Santa Cruz Hightower.
Fuzzy: Fuzzy is the guy with a big beard on a fat bike. We will all envy Fuzzy on his fat bike at some point when we hit sandy sections of trail. Fuzzy is an ex-mountain bike racer and rode the southern portion of the OTT a few years back before getting stopped by wildfires. He'll be riding his Fatback Skookum.
Tory: If you've ever contacted us via email or chat, then you already know Tory. Tory is our customer service lead, who knows A LOT about bikes. He's also done several road and gravel tours in Oregon and tour in Croatia. He'll be shredding his Boltcutter Groove Pony with custom zebra print Andrew The Maker bags.
Erik: Erik's the guy behind the camera, so he's also the one carrying the heavy camera gear. Erik is new to bikepacking, but has been a cyclist and backpacker for years. As a creative sewer, he's also the guy with the cool custom bags. Erik is riding his Santa Cruz 5010.
Derrick: If you've ridden singletrack in Oregon, there's a good chance that Derrick built it while towing a B.O.B. Trailer full of tools. Derrick is powerhouse of a rider, so we're not worried D-Rock, as we like to call him. Derrick will be on his custom "Crash Test Dummy" painted Santa Cruz Bronson.
As you may have noticed we're not riding typical "bikepacking" bikes. All of these bikes are our everyday trail rigs. Some of us made a few small adjustments and we'll document those and share the details of our setups after the ride.
We'll be back at the shop, working hard to get your orders out on July 12. We'll also be posting more stories of our adventure when we return. Until then, happy trails!