Divide Fat
Old Man Mountain racks are the most versatile racks available. Capable of mounting to full-suspension mountain bikes, gravel bikes, road bikes, fat bikes, even tri-bikes if that's what you're in to.
Tested and trusted in the most extreme environments on earth (we're still trying to get NASA to take them to the moon). Our racks have helped riders traverse Iceland in bitter cold winters, carried the gear of countless GDMBR riders, and circumnavigated the globe. The only remaining question is where will it go with you?
Want to use our rack on a bike that isn't made for racks? Want to swap your rack between multiple bikes? A Fit Kit is all you need.
Old Man Mountain racks have been around the world, from Alaska to Antarctica, and they've carried everything from briefcases and beer to a month's worth of provisions for unsupported adventure. They're built to last and have a proven track record.
Trust us, the last thing we want is a call from a customer deep in the Peruvian Andes who needs a replacement rack! Whether you're headed out to do some birding and bringing a tripod and picnic along, going on a packrafting trip for a week, a quick overnight just out of town, or riding to work, The Divide has your back.
The full deck has plentiful lashing points and the low pannier rails make it easy to take panniers on and off when gear is on the deck. They also move the weight of your gear lower on the bike, improving your center of gravity and handling.
The dropouts are adjustable so you can perfectly dial in how the rack fits on your bike. It comes ready to mount front or rear if your bike has rack mounts. If your bike doesn't have mounts we've got you covered.
We make a full line of Fit Kits to axle mount the rack. In addition to fitting nearly any bike with the Fit Kits, they also protect your bike from overloading your eyelets, increase the stiffness of the rack, and raise the weight capacity to a whopping 70lbs! We won't tell you that 70lbs would be fun to ride with. We're just saying you can. And, it's fun to note that the weak point in this system is your bike frame and not our rack. 😉
Everything the Divide Fat comes with.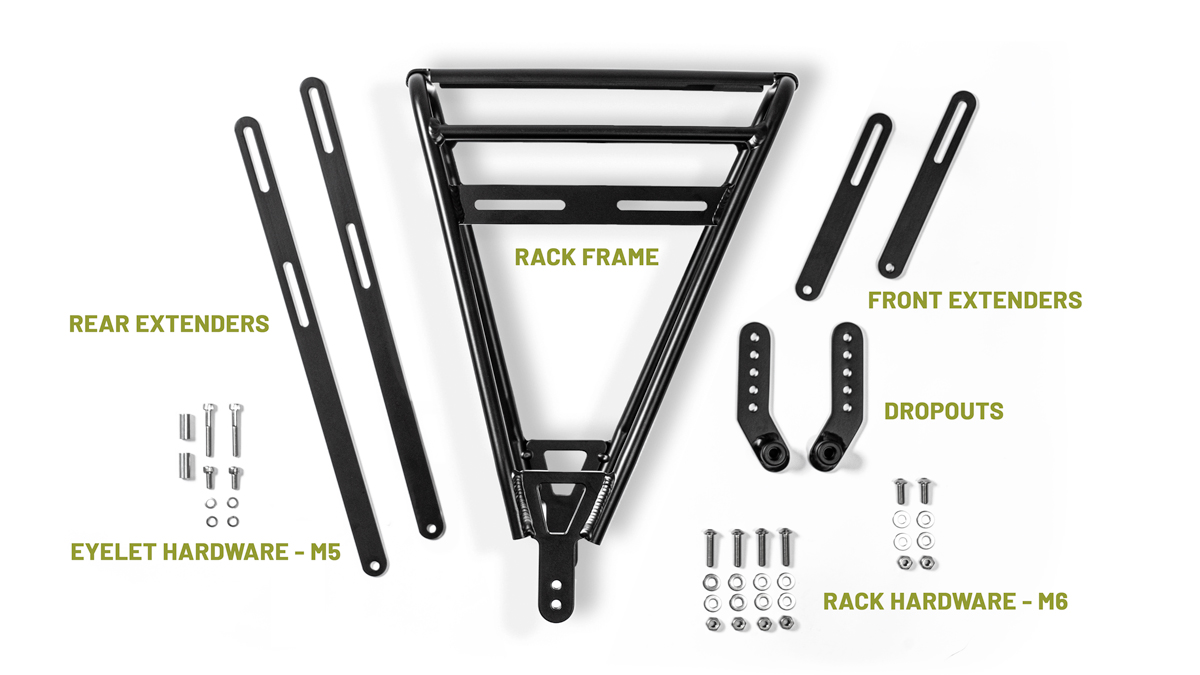 What Makes The Divide So Special?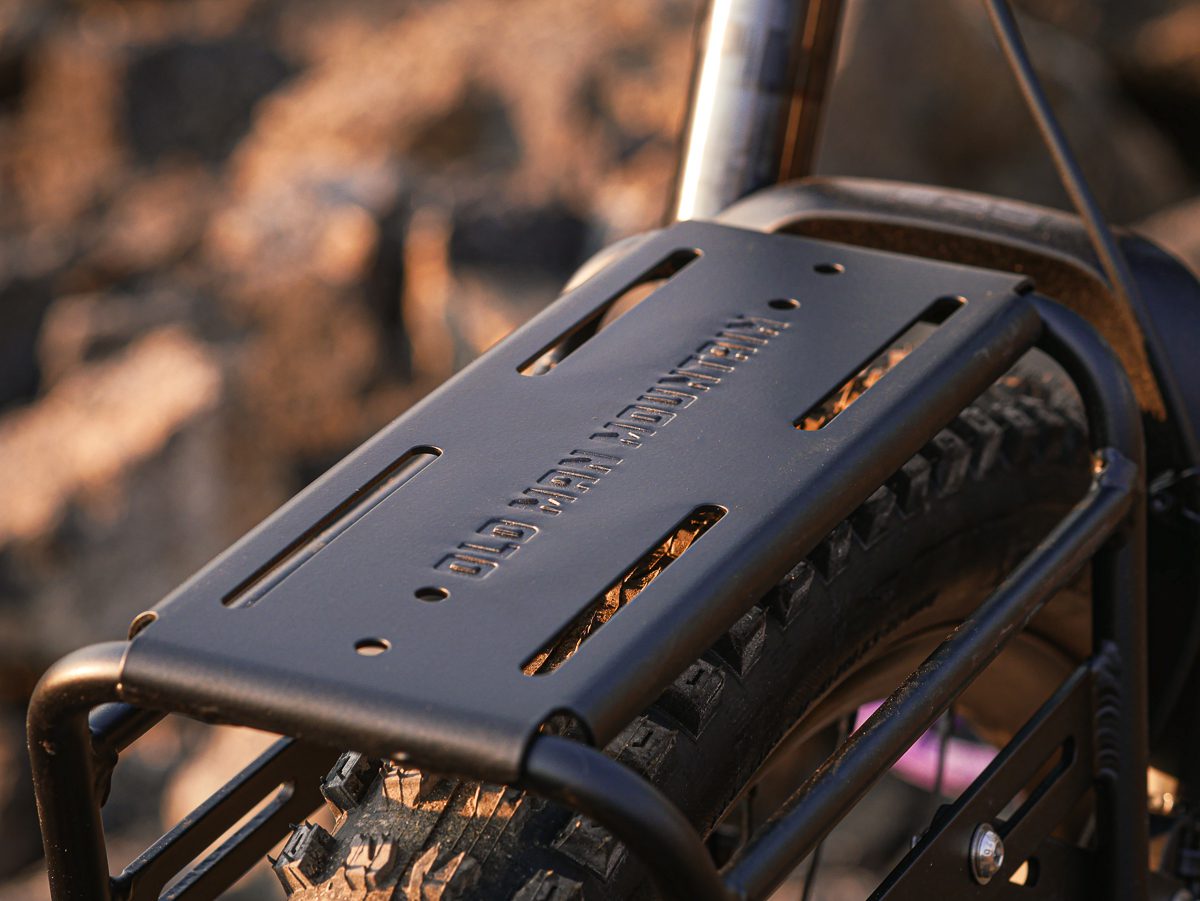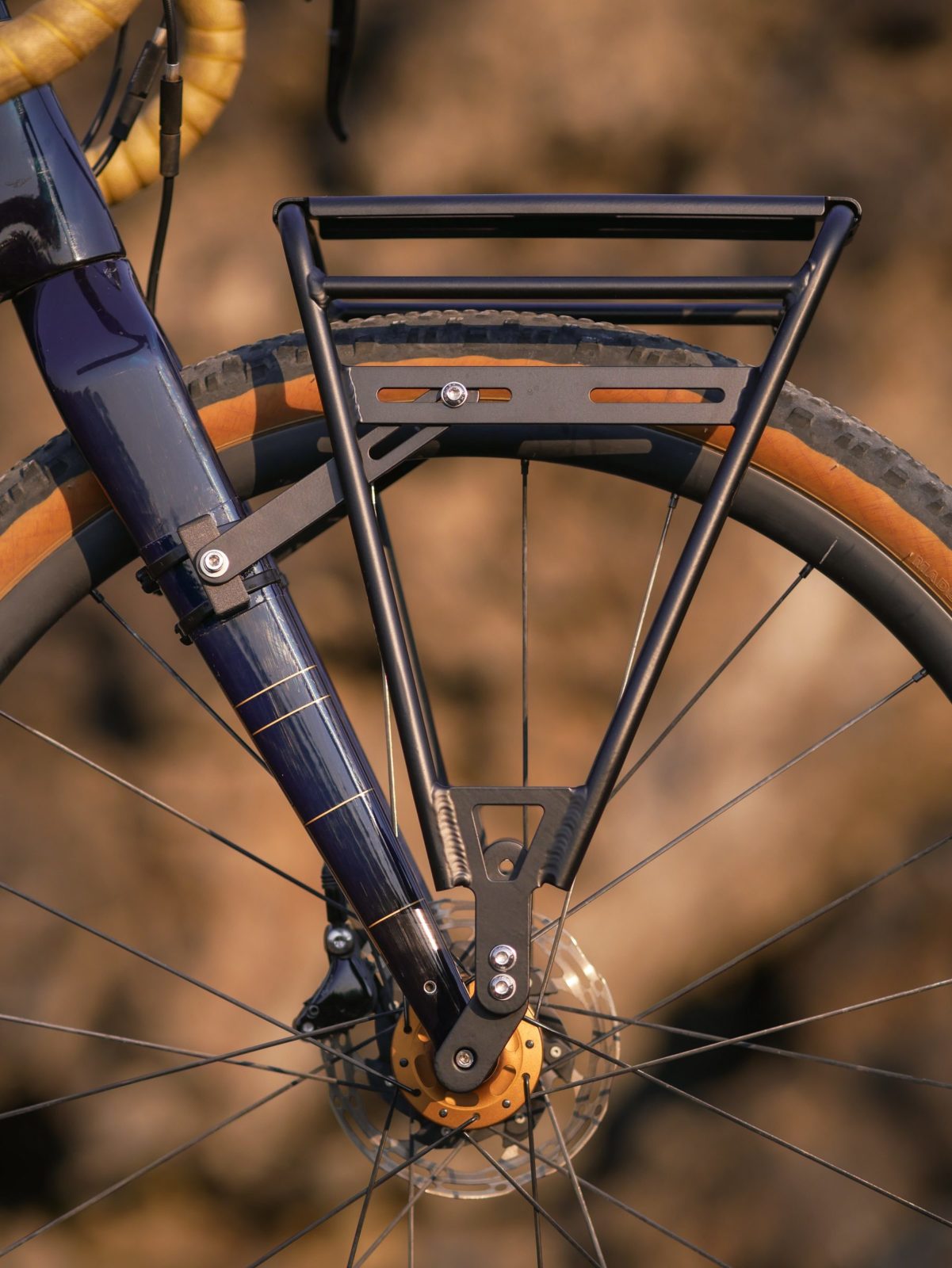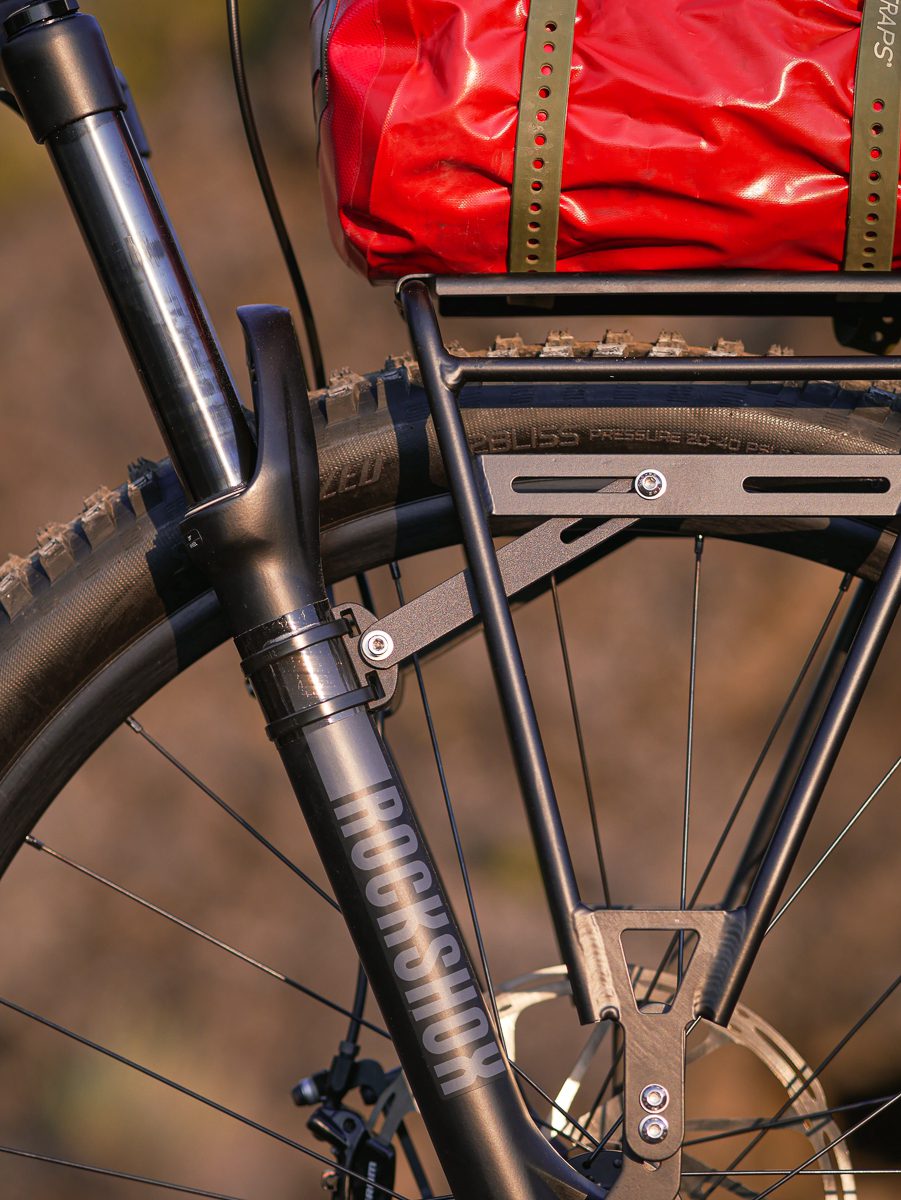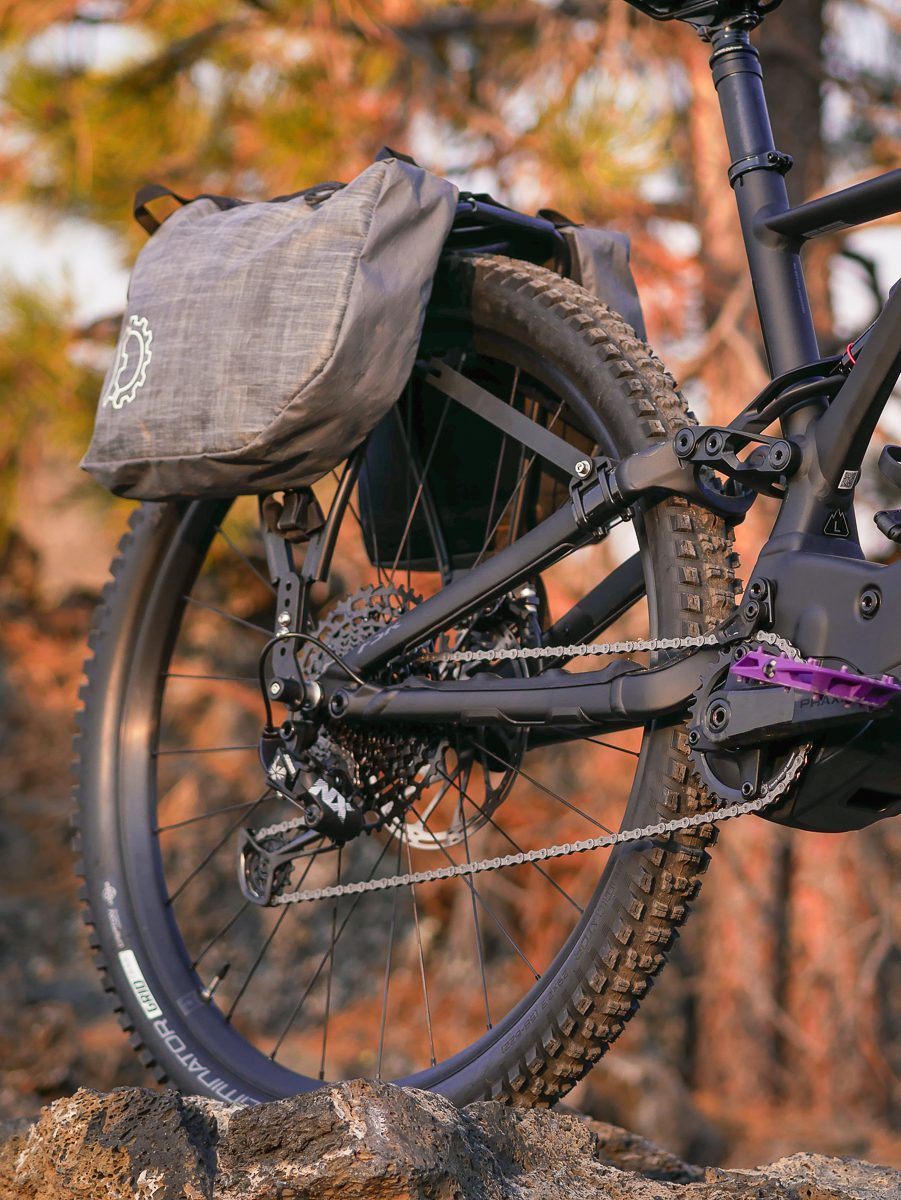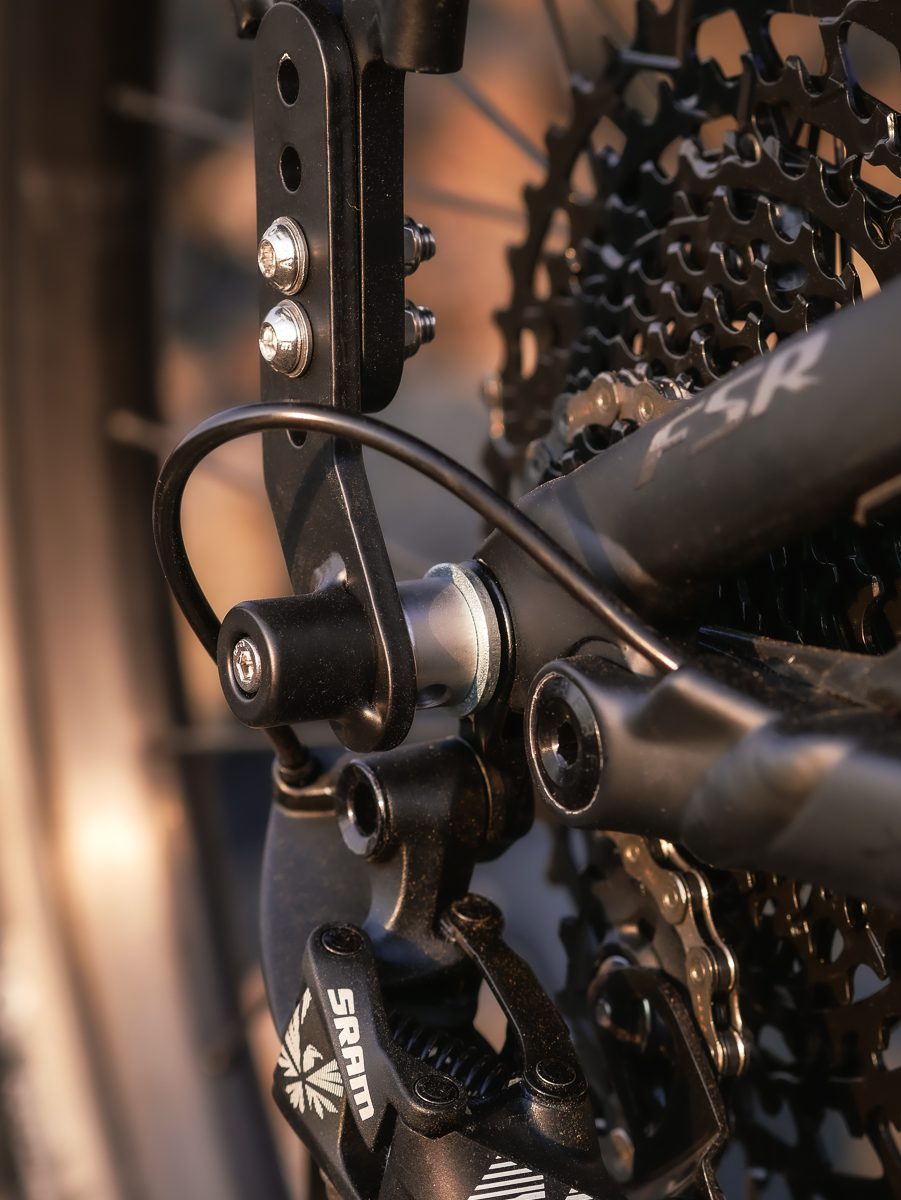 Ready for everything.
Let's get into the details and specs. The Divide Fat is an incredibly adaptable rack, built to suit your needs perfectly.
Fits up to 26 x 5 inch or 27.5 x 4.6 inch tires.

Front or rear mountable.

Fits 150mm and wider hubs. Will not fit on non-fat bikes.

Made from 6061 aluminum the racks are lightweight, stiff, and strong.

The main rack frame is made of 1/2″ (13 mm) diameter tubing for durability, and the pannier rails are 3/8″ (10 mm) diameter to fit all panniers.

The low pannier rail makes it a breeze to load and unload panniers with gear lashed to the deck.

The deck measures 5.1″ x 12″ (130 mm x 306 mm)

The deck includes slots for easily lashing gear in place and holes for mounting a light.

The dropouts are height adjustable to keep the weight loaded low on the bike and fit a wide range of tire sizes.

The Divide Fat come standard, eyelet mount ready with optional fit kits available for thru axle or QR mounting.

The Divide has a load capacity of 55lbs when eyelet mounted.

For more adventurous endeavors we offer thru axle or QR Fit Kits, that mount the rack to the axle and increase the load capacity to a whopping 70lbs!

Powder coated a sleek and refined shade of black.

1192g including all hardware and extenders.

Made in Taiwan.

Lifetime warranty!
"I found the fit of this rack to be the very best that I've ever tested."
"With Old Man Mountain's Divide and Divide Fat, you can pack your gear in no matter what you're riding. The brand has developed a reputation for rugged builds in its 25 years of experience, and now it expands its fitment to include, well, everything."
"Wouldn't it be great if you could just buy one rack, knowing that it would work with just about anything? That's where the new OMM Divide rack comes in."