Pizza Rack
In stock (can be backordered)
The Pizza Rack is ready to make those wide, awkward carries a breeze, and is perfect for commuting or bikepacking while keeping your gear within reach. Great for a Basket, Caradice bag, Porteur Bag or just, a bunch of bungees.
With a Heavy Duty version of the Elkhorn uprights, and a 10″ x 12.9″ deck the Pizza Rack can comfortably carry up to 35lbs of gear. The solid center deck provides more tie-down points than you could ever need, keeps your gear out of your tire, and doubles as a fender!
The Pizza Rack come with everything you need to Eyelet mount the rack on the front of your bike. If you don't have eyelets, Old Man Mountain racks are the most versatile racks available. Our Fit Kits are capable of mounting to suspension forks, full-suspension mountain bikes, gravel bikes, road bikes, fat bikes, even tri-bikes if that's what you're into.
Tested and trusted in the most extreme environments on earth (we're still trying to get NASA to take them to the moon). Our racks have helped riders traverse Iceland in bitter, cold winters, carried the gear of countless GDMBR riders, and circumnavigated the globe. The only remaining question is where will it go with you?
Want to use our rack on a bike that isn't made for racks? Want to swap your rack between multiple bikes? A Fit Kit is all you need.
Old Man Mountain racks have been around the world, from Alaska to Antarctica, and they've carried everything from briefcases and beer to a month's worth of provisions for unsupported adventure. They're built to last and have a proven track record.
Trust us, the last thing we want is a call from a customer deep in the Peruvian Andes who needs a replacement rack! We've made it 25 years without that call and intend to keep it that way! Knock on wood *knock knock*. Whether you're headed out to do some birding and bringing a tripod and picnic along, going on a packrafting trip for a week, a quick overnight just out of town, or riding to work, The Pizza Rack is the perfect companion.
It comes ready to mount on the front if your bike has rack mounts. If your bike doesn't have mounts we've got you covered.
We make a full line of Fit Kits to axle mount the rack. In addition to fitting nearly any bike with the Fit Kits, they also protect your bike from overloading your eyelets. The rack is confidently rated to carry 35lbs.
Everything the Pizza Rack comes with.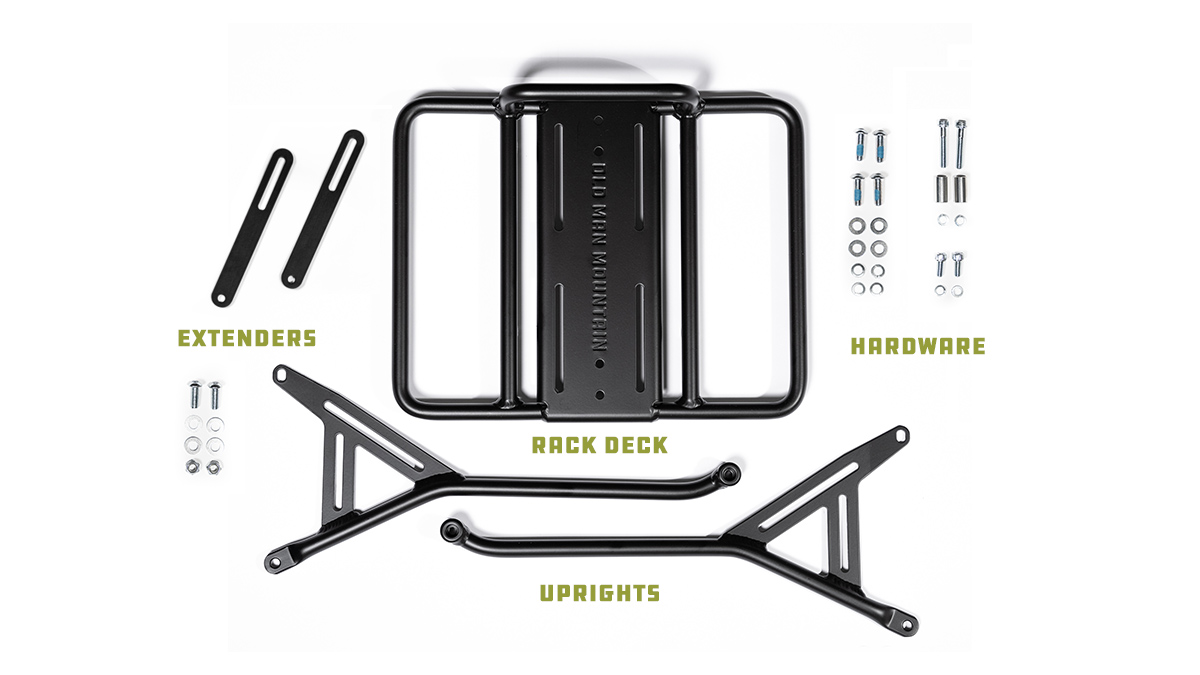 What Makes The Pizza Rack So Special?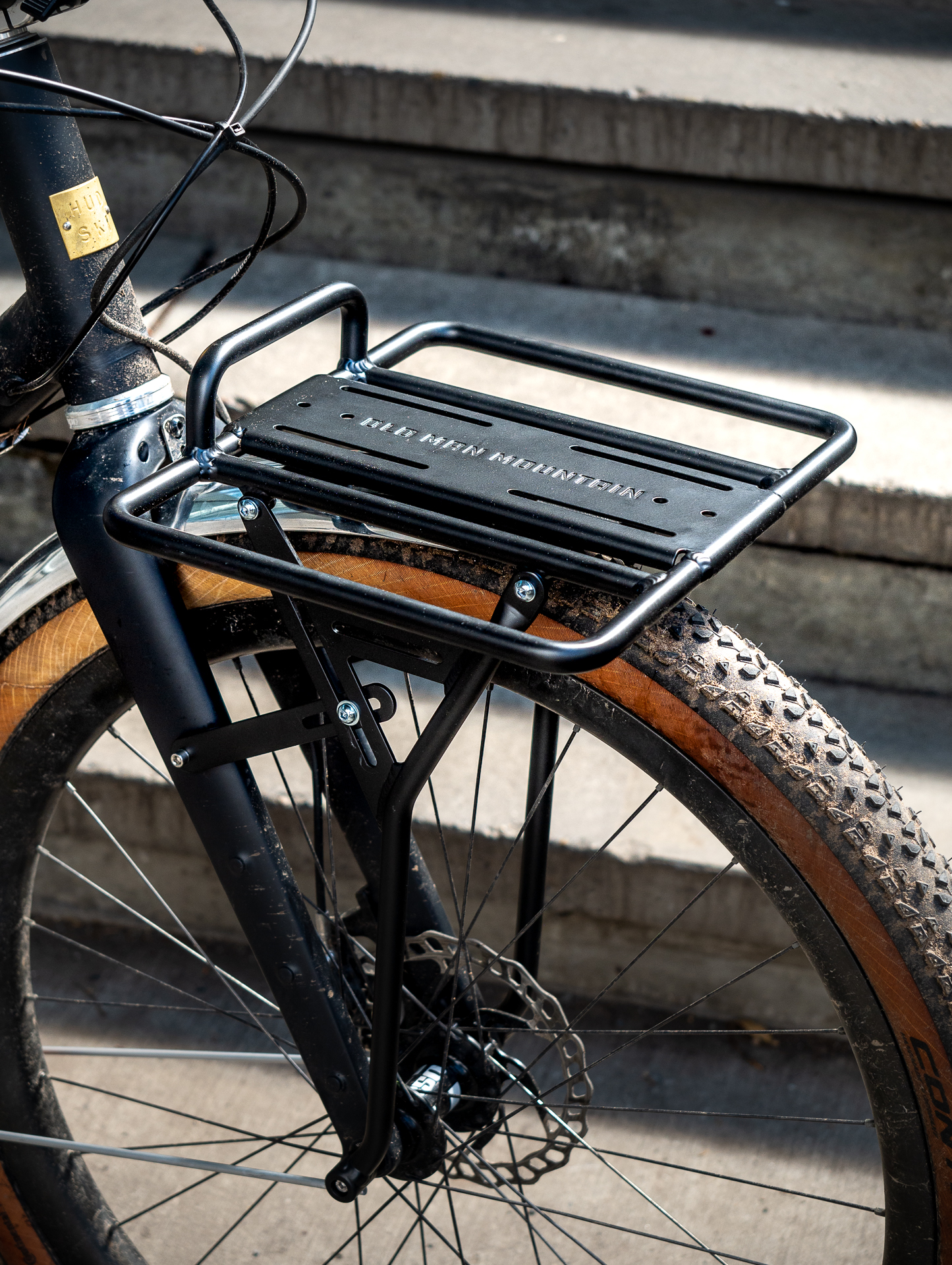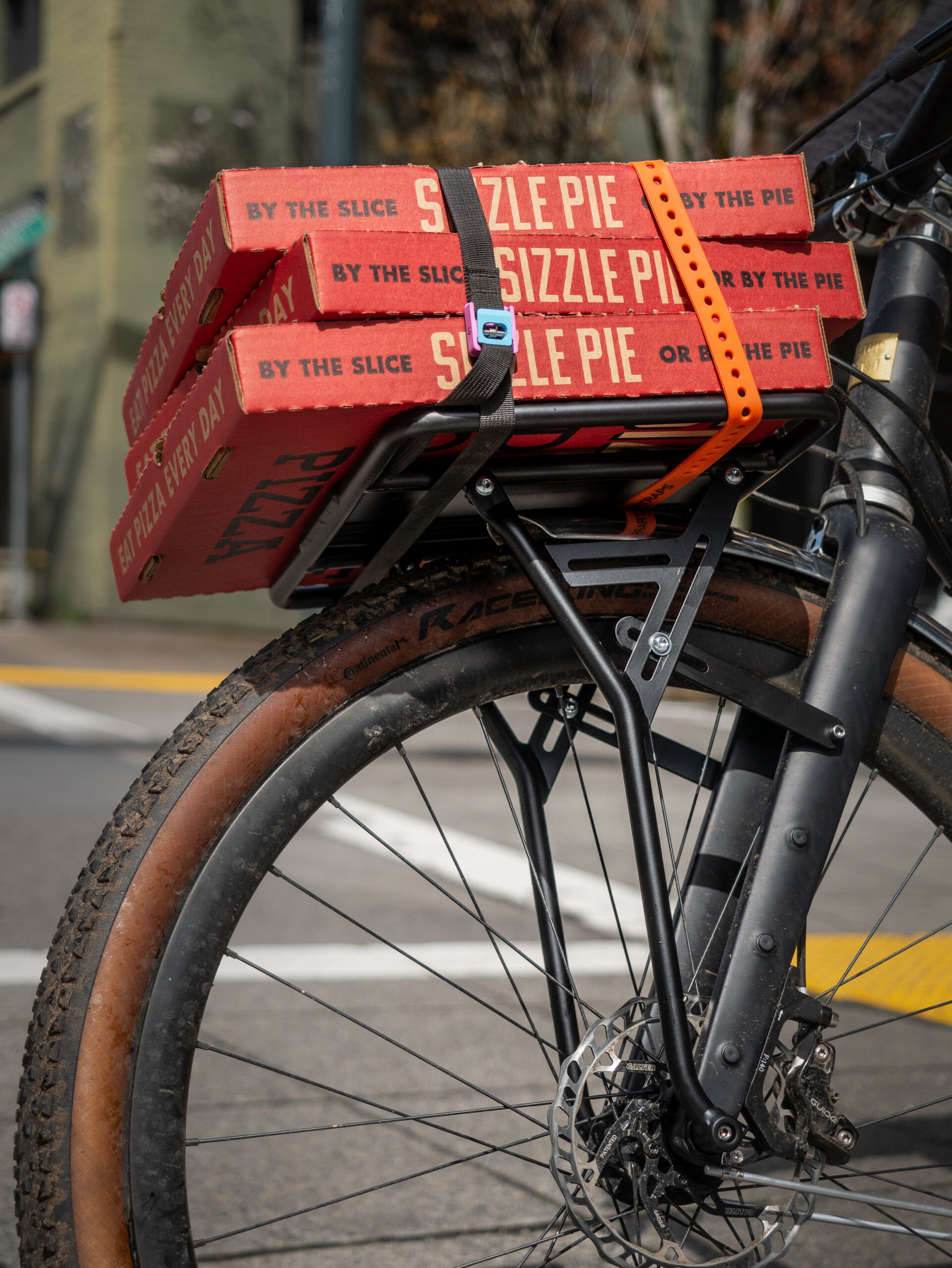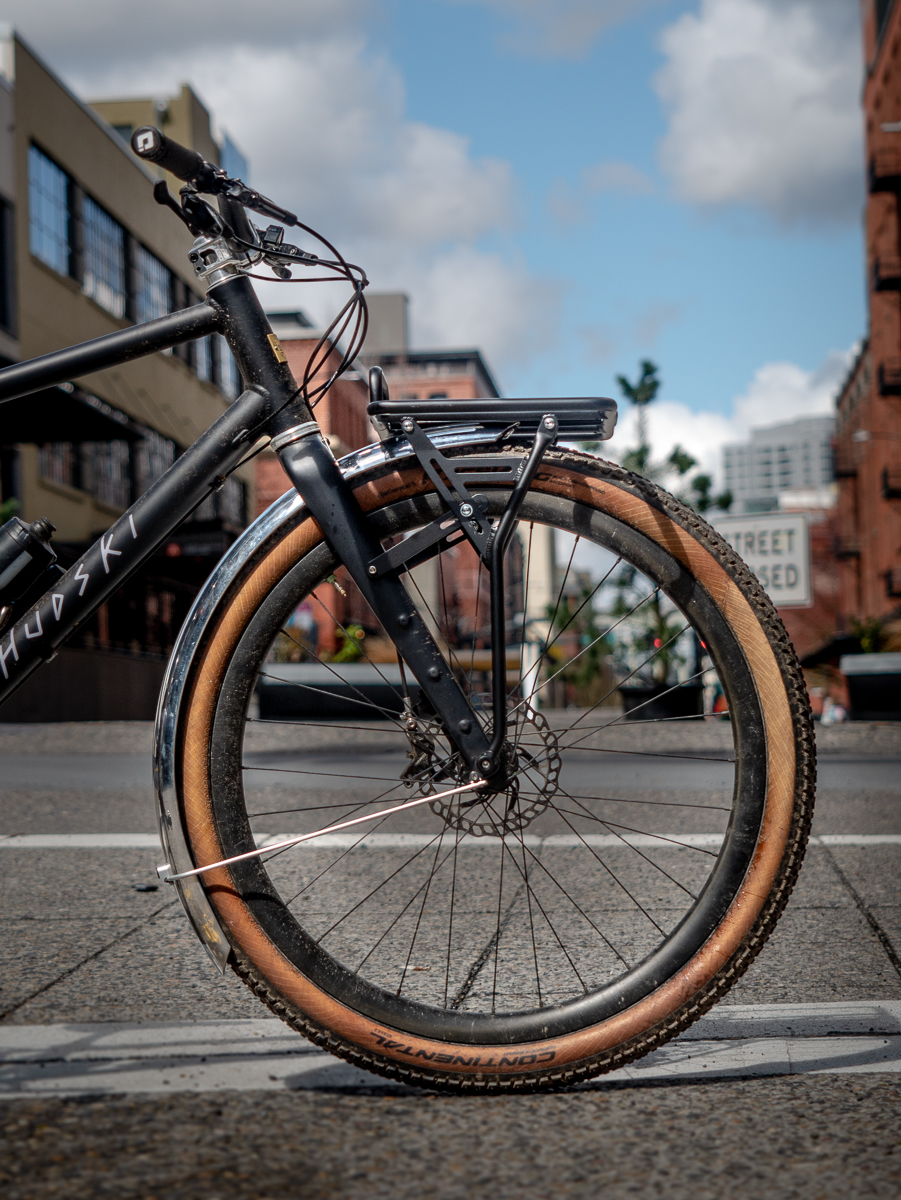 Ready for everything.
Let's get into the details and specs. The Pizza Rack is built to adapt to your adventures.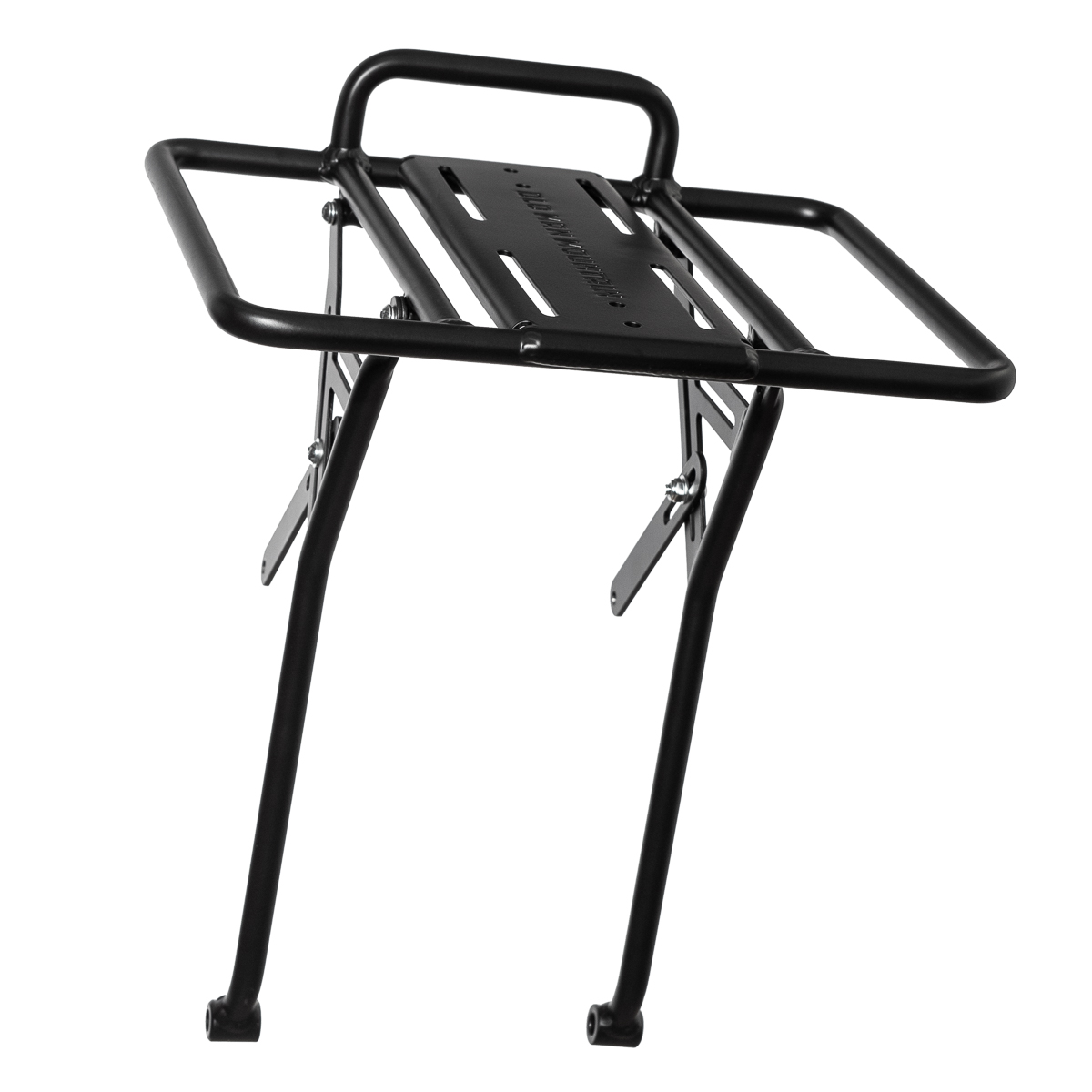 The Pizza Rack is designed for 27.5 and 700c wheels. Fits tires up to 27.5 x 2.8″ or 700c x 50mm.

371mm from mounting point to the underside of the deck.

Front mountable.

Fits up to 157mm wide hubs.

Made from 6061 aluminum the racks are lightweight, stiff, and strong.

The rack frame is made of 1/2″ (13 mm) diameter tubing.

The deck measures 12.9 x 10 inches (326mm x 255mm).

The deck includes slots for easily lashing gear in place and holes for a light mount.

The Pizza Rack comes standard, eyelet mount ready with optional fit kits available for thru axle or QR mounting.

Load capacity of 35lbs/15.8kg

943g including all hardware and extenders.

If you want more precise fit information, the height from the mounting point to the deck is 378mm. Be sure to leave room for debris and mud clearance.

Powder coated a sleek and refined shade of black

Made in Taiwan

Backed by a Lifetime Warranty!