Hell Biking: Who's idea was this anyway?!
A short history lesson
Hell Biking was a term coined by Carl Tobin to describe the type of riding and adventures he, Roman Dial and Jon Underwood were doing in the late 1980's (Note 1). Roman Dial, regarded as the godfather of bikerafting, was the instigator of these tours and their 1988 adventure from Nabesna to McCarthy in Alaska, was considered to be the first ever bikerafting trip. In the article Dial wrote for Mountain Bike magazine titled "Live to Ride, Ride to Die, Mountain Bikes from Hell" he described their 250 mile journey in spectacular detail. No tents, no stove and one packraft to get three across the water sections. No luxuries.
" We came to ride, not to camp" (Note 2).
Those seven days of extreme adventuring set the benchmark for what was to come.
The article made this type of biking combined with rafting to be a sport only for the insane which maybe explains why this type of adventuring took many years to catch on. Although Dial and his motley crew did take on more of these Hell Biking adventures over the next few summers, it wasn't until an article published in the National Geographic in 1997, " A Wild Ride" that this sport began to gain traction. This story written by Dial, was about a 775 mile, seven week trip across the Brooks Range in Alaska ridden the summer before. The three boys were at it again and it was even more extreme and crazy than the 1988 trip. The exposure the adventure got via the global magazine had far reaching consequences.
"Well, that trip (the original 1988 tour) eventually led to the National Geographic trip that inspired Thor Tingey of Alpacka, who started packrafting, and Eric Parsons of Revelate Designs, who started bikepacking as we know it today." Roman Dial (Note 3).
Many others have carried the Hell Biking torch since then and in their adventures have inspired a new generation of adventurers to try their own version of Hell Biking. I am one of them.
Our Story
I managed to rope my wife into coming bikerafting (formerly known as Hell Biking) in the early spring of 2021. I had chosen a route with a relatively easy bike ride in, before a gentle paddle down a 25km stretch of the Class 1 Nittälven river in central Sweden and a final 15km ride out. I didn't use the term Hell Biking when I was selling her the trip. Of course, it didn't go according to plan and we ended up having our own Hell Biking experience.
Unlike Roman Dial's 1988 or 1996 trips we had more modern equipment and were out for a much shorter time. Thanks to the innovation of Tingey and Parsons, as we used both Alpacka Packrafts and Revelate Design Bags, our trip was made a hell of a lot easier and much more comfortable. But bikerafting does infact combine the two hardest parts of each of the sports, lugging your equipment.  Regardless of how modern your equipment is you still have to know what to bring and how to haul it. This is where my Hell Biking part of the trip was to be found.
My wife Linnea rode a Fatlabs 27.5 plus bike and I was on a Salsa Beargrease fatbike. Both were kitted out with Revelate Design (RD) Bikepacking Bags with my Salsa having an Old Man Mountain (OMM) rear rack attached. Our Alpacka Classic boats were strapped to our handlebars via a RD harness and our Aquabound paddles, which folded down into 4 parts, were strapped to my OMM rack. We each wore a drysuit for the paddling and carried three days of food,. four sleeping bags, four mattresses (two each!) and a Hillieberg Niak tent. In all, quite some load.
Getting everything to the river wasn't so bad. I had a large Hyperlite Mountaineering Gear 4400 Porter on my back to take everything which wouldn't strap onto the bikes. The cycling was slow but we made it to the bridge which marked the start of the river section. The great thing about modern packrafts are their air-tight zips which allow you access into the tubes of the boats. We stuffed our bags and equipment inside these before inflating the rafts and heading down river. The only drawbacks are that  you need to look after the zips and make sure you keep them clean in order for them to remain air tight, and  once your boat is inflated you don't have access to what's inside unless you let the air out and re-inflate.
Even with all the weight of food, clothing, camping equipment and our bikes, with the wheels removed and strapped onto the front of the rafts, the boats performed really well. The extra weight doesn't really impact the boat's handling. The beginning of our river part was fast and exciting with our Hell Biking experience only beginning as we hit the lower section  where we began to encounter fallen trees across the river. The first couple of portages (getting out of our boats and carrying them on land around the obstacle) were almost fun. Figuring out how to bypass each of the obstacles was as much of a challenge as the actual lifting of the boats, bicycles and gear all as one unit. But by the twentieth portage it had become a real struggle. Failing light and exhaustion had us on the brink of failure. The last 3km of the river section must have taken five hours to complete. Bikerafting hell.
We used every trick in the book to avoid portaging. If the trees were low enough in the water we tried to paddle or lift over them. If there was just a branch getting in the way I used my foldable saw to remove it. We limboed under or tried to climb over. And when all else failed, which it often did, we had to climb up the banks of the river and portage our heavy loads around the obstacle.
We didn't go light on this trip which made the portages more difficult. It was early April in Sweden and we knew it would get cold at night. As the light faded each evening the cloudless skies allowed whatever heat which had been gathered during the day to rapidly disappear. The weight penalty which we suffered during the portages was our savior in the dark. We ate great food, drank wine and slept warmly. Our bedding was an intimate affair. We both had a light sleeping bag each, but were then cocooned in two heavier bags which had been zipped together for shared warmth. We used a closed cell foam pad each with a thicker air filled mattress on top to insulate us from the cold earth. All this in a small two person tent ensured we had a great warm night's sleep.
We learned the hard way a lesson in cold weather camping on the first night. We had slept with the door of our 3 season tent closed which allowed a build up of condensation. Meaning, when we woke in the morning the outside of our sleeping bags and the inside of the tent were damp. A Hillieberg 3 season tent relies on airflow entering the tent from the gap between the outer rainfly and the ground. A 4 season tent has vents up high to allow moisture to escape and help prevent the condensation build up. A 4 season winter tent will usually be heavier than a 3 season so you choose the tent which fulfills your criteria best. On our second night we slept with the door open and woke up dry in the morning.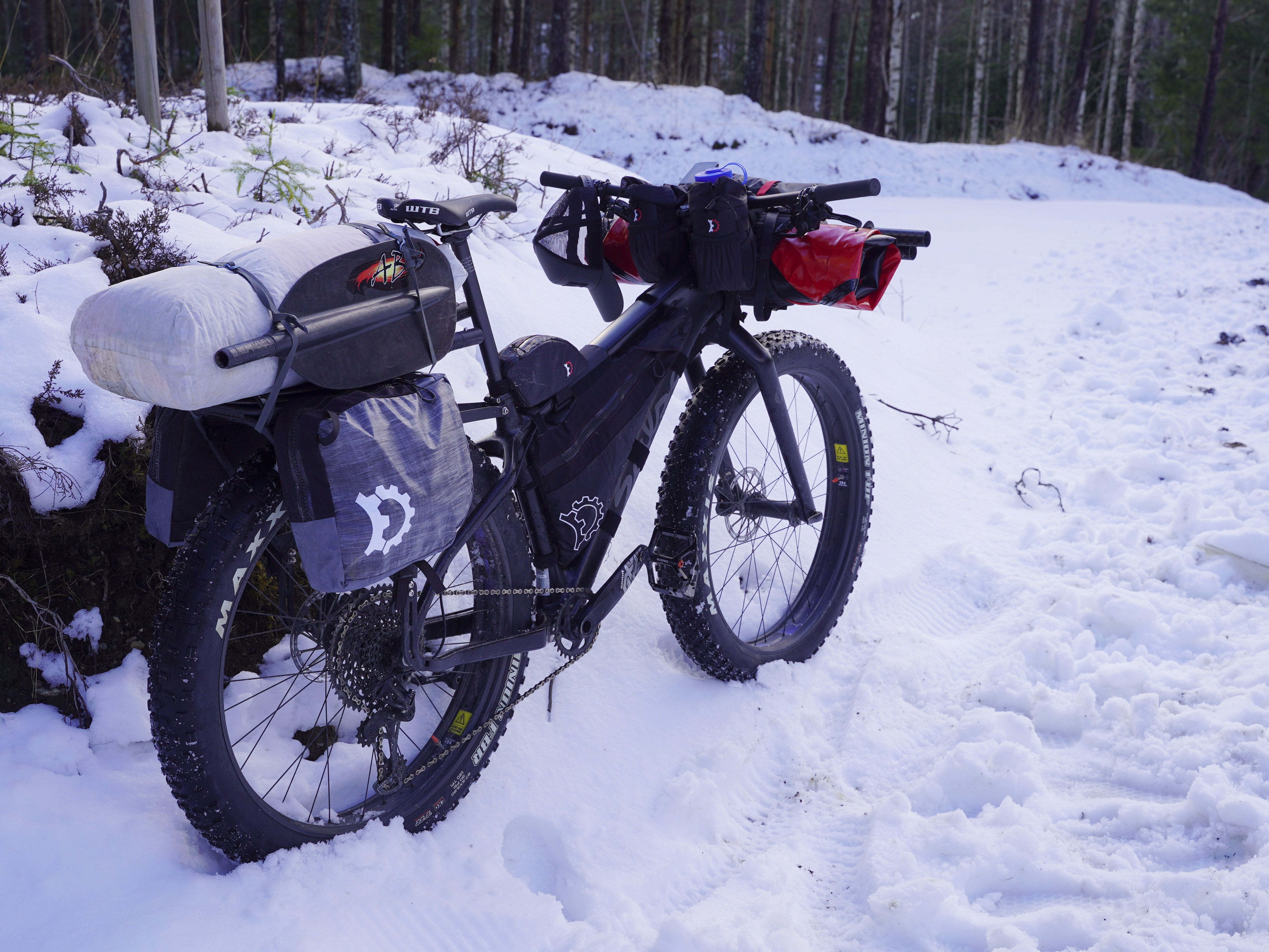 Using the Old Man Mountain Sherpa rack on my fat bike worked with relative ease as it mounted via a thru axle on the rear wheel and attaching onto my seatpost clamp. Not only did the rack allow us to carry more equipment but also it kept everything steady as we rode the singletrack section on the way out. I think for winter bikepacking or any lengthy packrafting or bikepacking trip a rack is an important piece of kit. Its value to weight ratio makes it an excellent addition to helping to alleviate the Hell Biking aspect of bikerafting.