Federico Cabrera aka Fede (@theironlyportrait) is an OMM Ambassador based in Buenos Aires. "Their Only Portrait", is a project where Fede cycles through beautiful but impoverished remote areas, in order to make, print, and give away portraits to families who won't otherwise ever have a family photograph. While on these rides Fede carries all of his camera gear and even a photo printer with him! He also carries water filters & solar lights that he donates to those who need them most!
In this trip report Fede takes us on a journey across Argentina, more specifically the Peninsula Mitre. It's in the easternmost part of Tierra del Fuego, located in the very southeast of the island, with its easternmost point, Cabo San Diego. It's known to resist human advancement which has resulted in pristine landscapes and a rocky road to travel on.
This region of Patagonia is known as being particularly unforgiving and inaccessible. It is beset with ever-changing weather, the absence of roads or clear paths, and an amalgam of cliffs, peat bogs, forest, and valleys. Its total area is 25 times the size of the city of Buenos Aires and contains 85% of the total peat bogs in the country. Peat formations are a type of wetland that can absorb and retain vast amounts of carbon, built of slowly decaying organic matter over hundreds and thousands of years. Their role is key in mitigating the global climate crisis.
A quick history lesson – For 10,000 years, the indigenous people of Tierra del Fuego lived on the land. But after the appearance of white settlers, the indigenous population was near entirely wiped out in a matter of just 200 years. Despite white efforts to settle the peninsula – that included fur factories, gold mining, logging, and cattle ranching – no venture has ever endured the harsh environment and the settlers mostly gave up on the region. However, their damage to the native population remained.
Federico documents his adventure below and we are proud to share it with all of you –
By the end of 2015, I had heard about this remote area while I was riding to Ushuaia, the capitol of Tierra Del Fuego, and by early 2016 I had already made my return. There wasn't much information available about the region, just a film from Les Stroud (A.K.A: Survivorman) where he claims this area is too harsh to thrive. I came with a light setup and extra food to attempt to explore it by bike, even though all the locals I consulted told me it was impossible.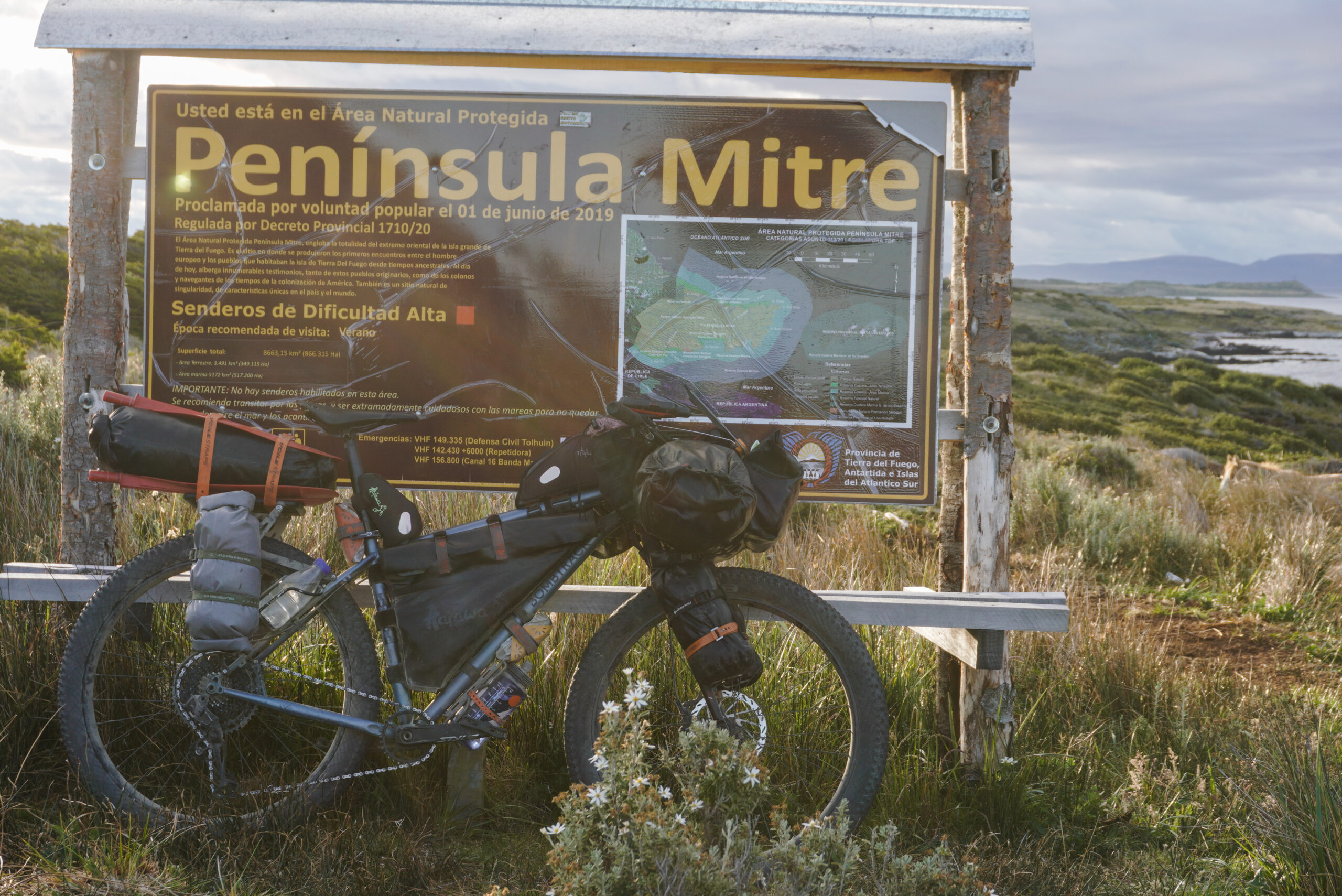 It took 2 weeks to reach Cabo San Diego and get back to Tolhuin. Panaderia La Union is my usual base whenever I visit Tierra del Fuego. Over the two weeks I was exploring the coastline, enjoying the few cozy shelters (the remnants of old Ranches), and enjoying the wild nature, by myself, with no other human in sight.
In 2019, I visited Peninsula Mitre for a second time, but I couldn't get any further than Cabo San Diego (as I was originally planning) after I injured my back rescuing a cow from a slow death in a peat bog. That's a story for another time.
In 2021, I decided to explore Peninsula Mitre's southern shore for the first time and I was able to reach as far as Bahia Sloggett, but I was still missing 60 miles to link the southern shore to Cabo San Diego and complete the whole loop.
I decided to try the southern shore one more time in 2023; this time I brought a mid-fat hardtail with chubbier tires, packrafting gear (to paddle along the Beagle Channel when it wasn't possible to continue by land) and a 30-day supply of food in a big backpack, in case I needed to endure some bad weather. I rode short days at the beginning, while I got used to the extremely heavy bike and backpack. This start was through the "Fin del Mundo" overnighter route.
The Journey Continues – Not as Planned
While I had planned out a month-long expedition, the Peninsula Mitre had proven to be a challenge on every trip. On the first week of the trip I got distracted for a second, my bars swung quickly, and I hit the ground hard!
There's a certain amount of powerlessness we accept when we go outdoors. It can be far easier than we think to get in trouble. Regardless of your experience and precautions, there are elements outside of our control and we need to be prepared for those.
I landed shoulder first and it was clear that it was dislocated. I tried to gather myself and take hold of my condition, and the condition of my bike. After 30 minutes of attempting to relocate my shoulder, I still couldn't get it and I was in no state to ride. I decided to leave my bike and gear behind, tucked off to the side of the road as best I could, and walk back to civilization. Eleven hours later I reached the hospital.
The x-rays showed two fractures in my humerus, the large bone that runs from your shoulder and scapula to your elbow. The doctors had to put me to sleep to get everything back in place. Three weeks later (when I was feeling a bit better), I hitchhiked 75 miles and I walked another 25 miles through the peat bogs, in order to retrieve my bike and gear.
I'm glad that even after my accident I was able to visit Luis 'El Paisa' Andrade at Puesto Ibarra. Luis has been hosting hikers at his remote ranch for decades! A few years back, when I rode my bike to Bahia Sloggett, I was luckily able to enjoy Luis' hospitality and this time was no different… well, the only difference was, I was able to give him a bigger/newer solar lamp which can last up to 50 hours with a single charge!
(The next time you travel to a remote place, PLEASE take a solar light and/or a water filter for personal use and leave it/them with a local family before you return Home).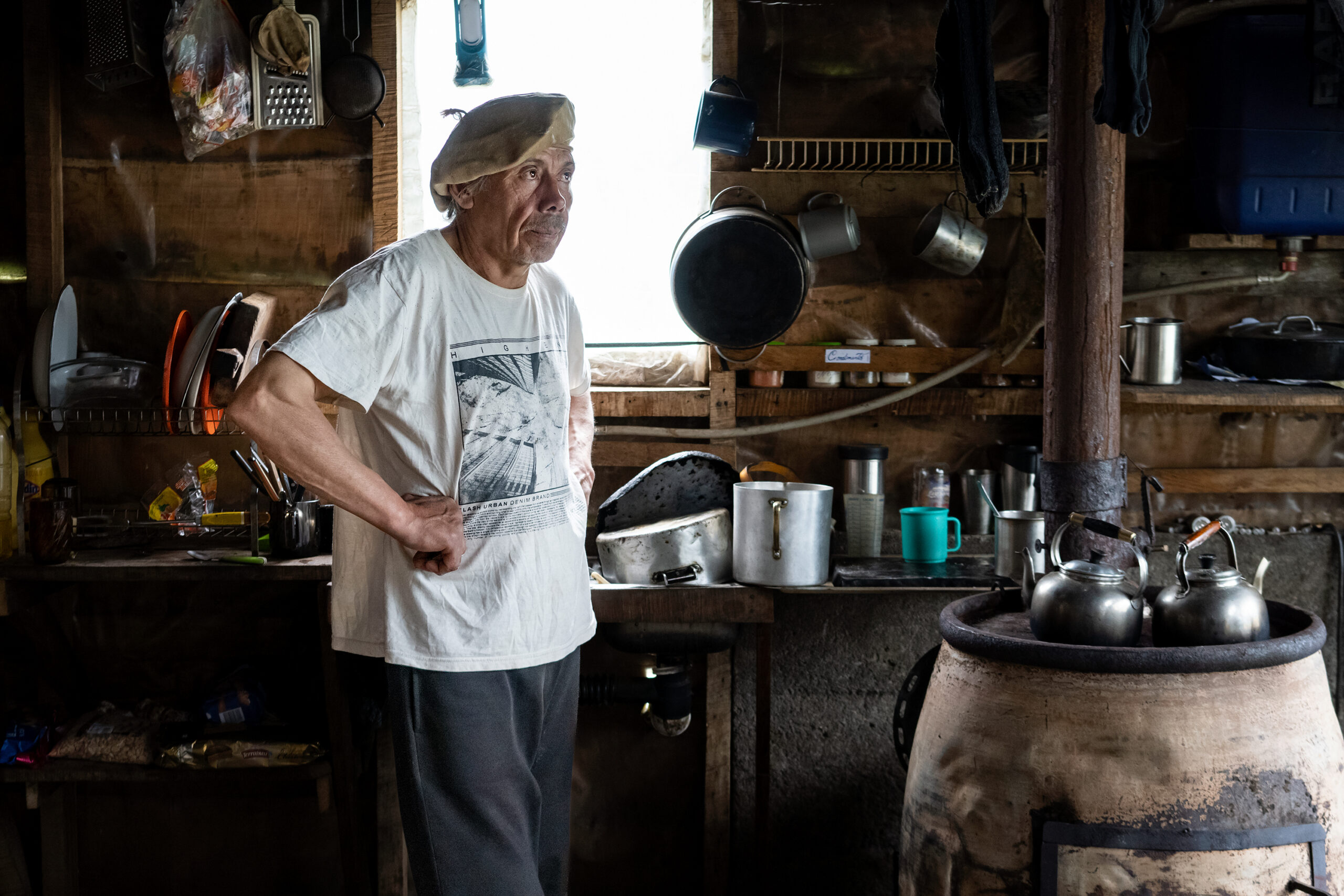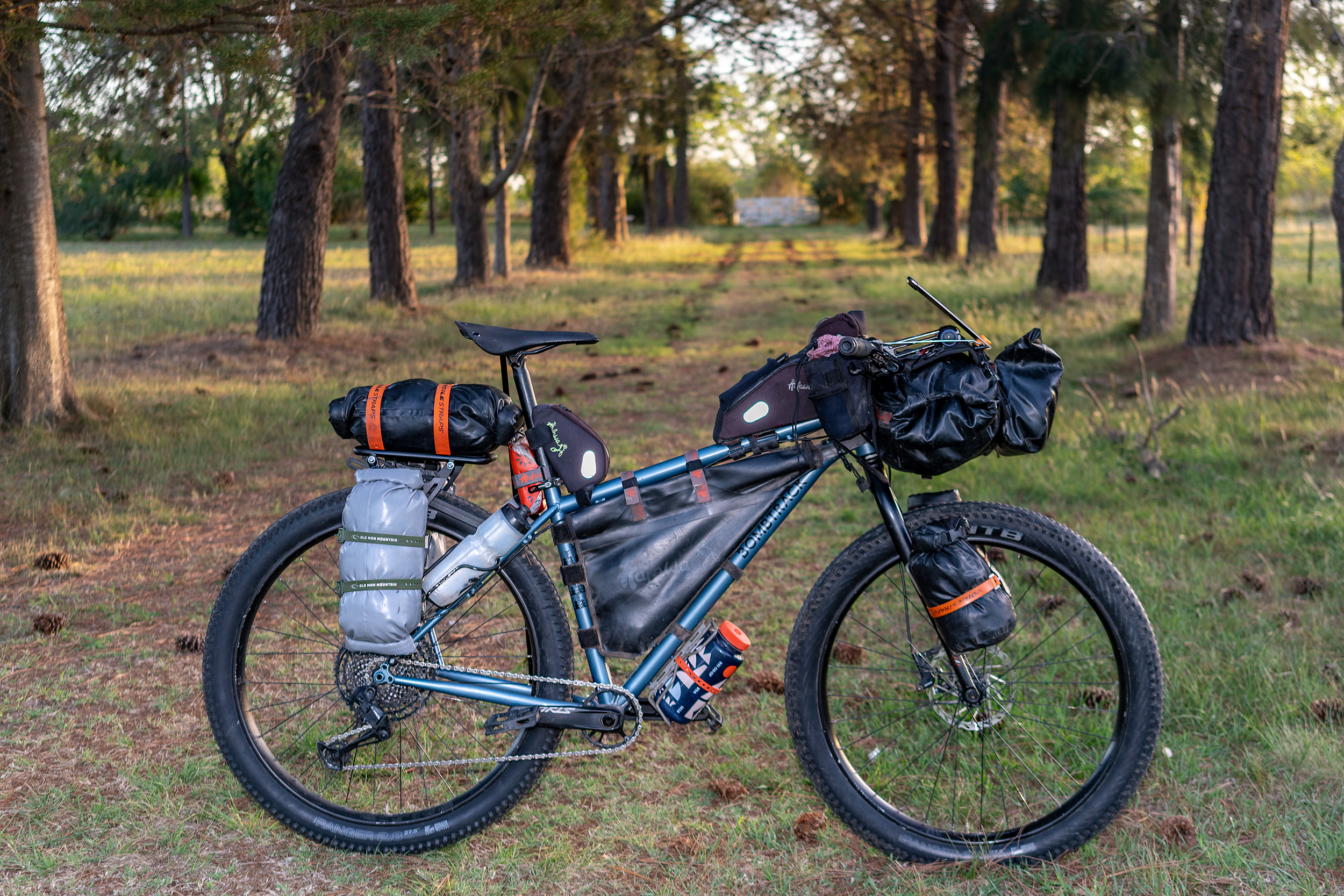 The Return
Fortunately, I was able to return to Ushuaia in time for Iohan Gueorguiev's Memorial.
It took Iohan more than a lifetime to reach Ushuaia. He probably always felt his life was to travel the world, that feeling of someone who doesn't feel neither here nor there, the certainty that the world is so small, that staying still in one place is the worst of luck. Despite that feeling. In 2014 he started pedaling from Alaska down through highways, roads and trails trying to reach Ushuaia (Argentina), the famous city at the "End of the World".
He caught thousands of followers' attention, who saw their dreams come true in someone else's body, as he was one of those people who do what few dare to, those who carry glory on their shoulders but with the humility of those who live fulfilling their dreams every day, one pedal stroke at a time.
While in El Chaltén (Argentina), the pandemic took him back almost to his starting point. Probably, that day he felt his life was ending, because to stay still was to die while being alive. His life's dream was only 1,000 miles away, but the virus that took over the world, took him back to Canada living the nightmares of those who cannot sleep.
Iohan's ashes, thanks to some of his friends' efforts, finally arrived in Argentina at the beginning of 2023. Initially, the idea was to send them to El Chaltén, so they could travel by bicycle, the stretch of the "route" missing from his journey, as an act of life over death, as a tribute, as the resignation the living seek to fulfill the designs of the dead.
Unfortunately, that tour didn't come to fruition for multiple reasons, including a new variant of the virus, but I did carry his license plate and some of his gear, all the way down.
On February 11th, in Tierra del Fuego's National Park, a group of Iohan's friends freed his ashes on the waters of the Beagle Channel, at the point where the Pan-American Highway finishes, where "civilization" ends, where the young cyclist wanted to arrive to embark on new paths, because not even the end of the world was enough for this adventurer.
Finally, some inert ashes (charged with Iohan's incomparable energy), fell on the icy waters and left to give an eternal tour around the globe.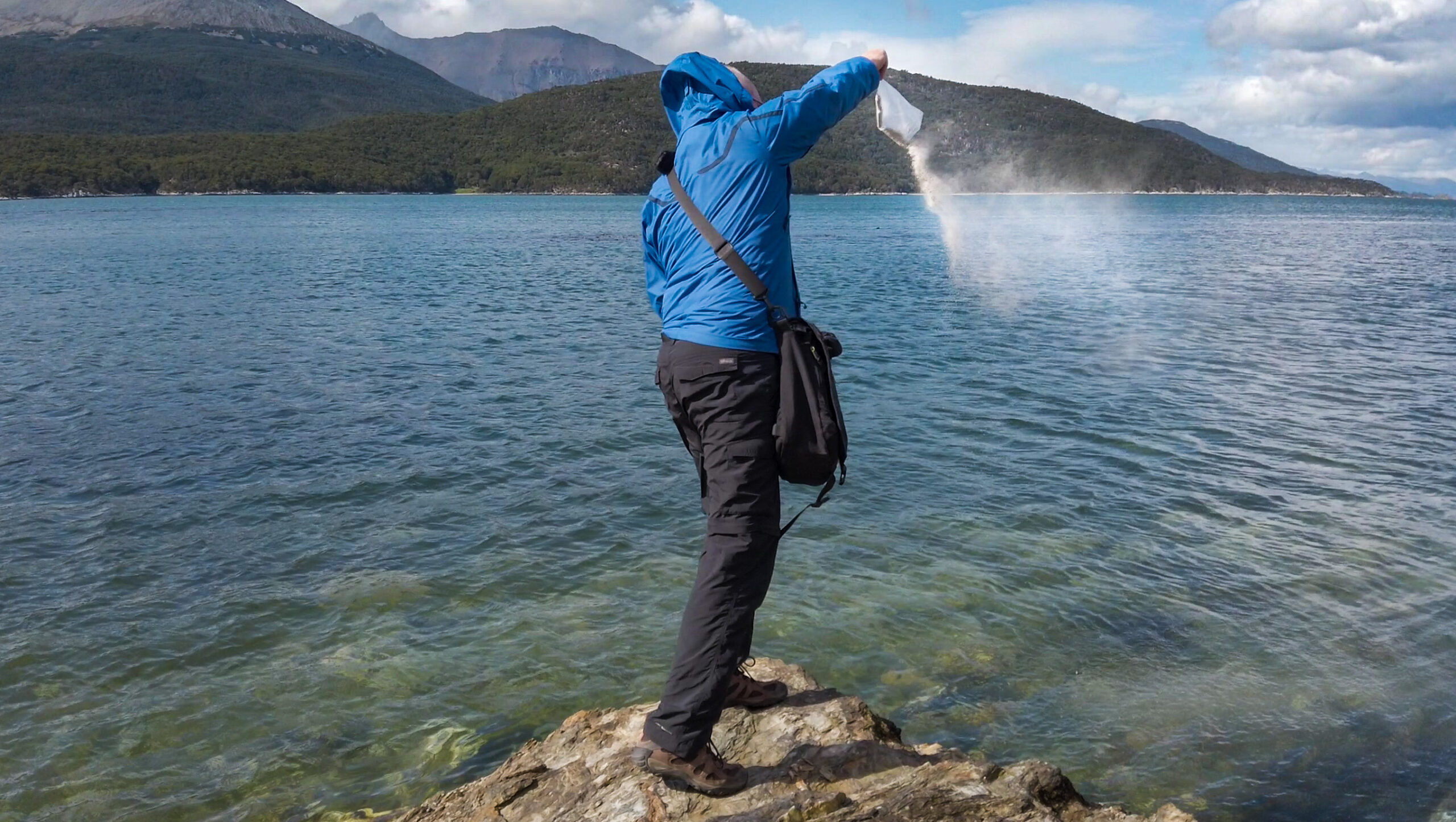 Tierra del Fuego is at the southernmost tip of the Andes mountain range in South America, where the Atlantic and Pacific meet. Its population is about 130,000. It may seem remote, but the area has been inhabited for 10,000 years by indigenous people known as Yahgan. Even today, Tierra del Fuego is home to a small band of Yahgan who still speak their own language, known as Yámana.
https://www.exploros.com/summary/grade-8-tierra-del-fuego-land-at-the-bottom-of-the-world