When you think of Los Angeles, mountain biking probably isn't the first thing that comes to mind. But, if you look a little closer, you will find a thriving community of mountain bike advocates dedicated to uncovering trails lost to time & building more access for all user groups.
I had the privilege of joining the Lowelifes Respectable Citizens Club on one of their monthly trail work campouts to see how they do things down in Southern California. After spending three days in the backcountry with the SoCal crew, I can confidently say that I would join them again in a heartbeat!
I had never flown with an entire bikepacking setup, ridden in SoCal, or shot video alone, so I knew right away that this trip would be chalked full of firsts and learning experiences. After fussing about with what to bring and what to leave, I finally settled into a setup, and squeezed it all into a EVOC travel bag. Friday morning started early with a 5am flight. Security was hassle free, and a quick visit to Stumptown had me ready for the day. I got to watch the sunrise out the window of the 737, and arrived into Burbank where I met Erik Hillard, one of the board members of Lowelifes RCC, to begin our adventure.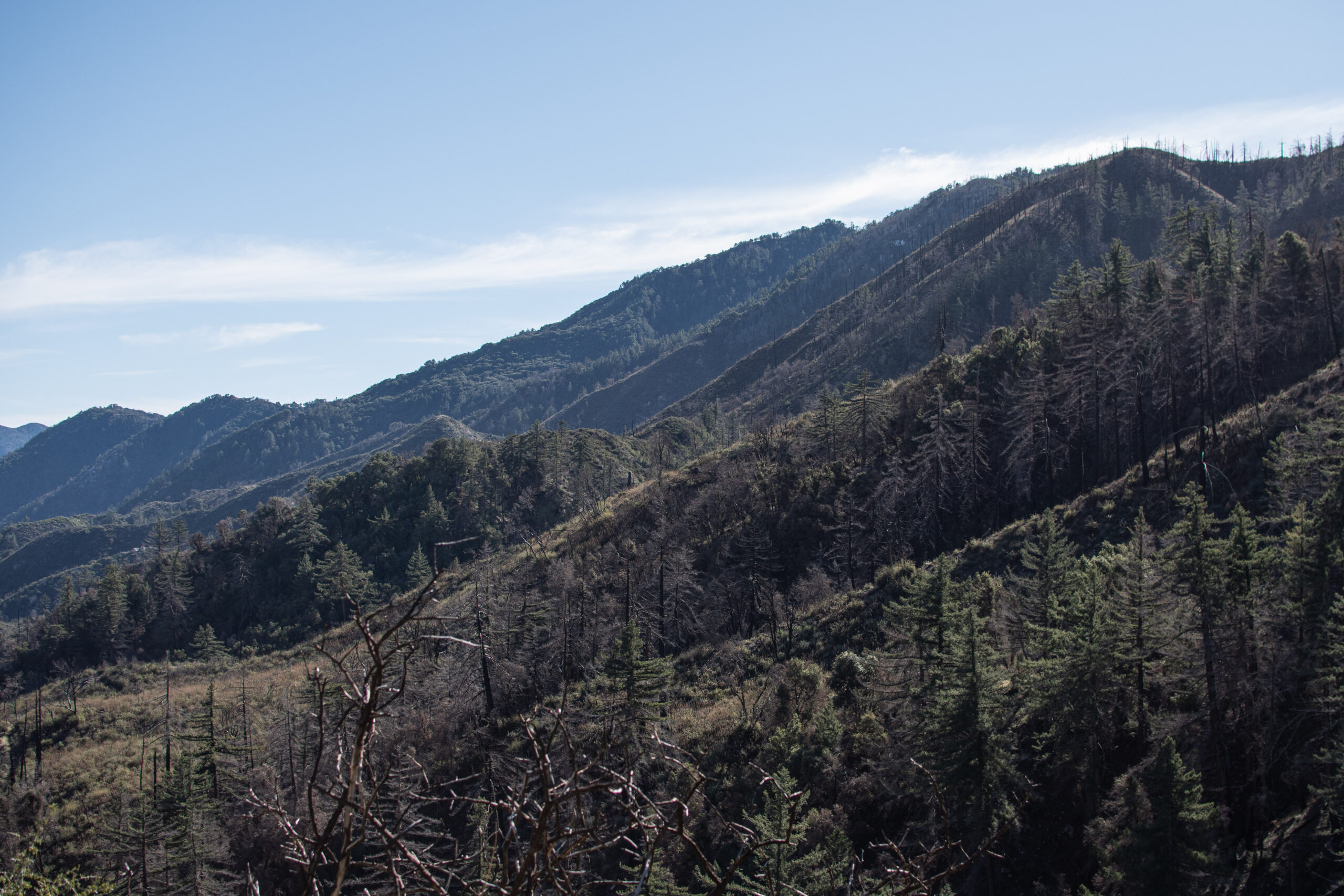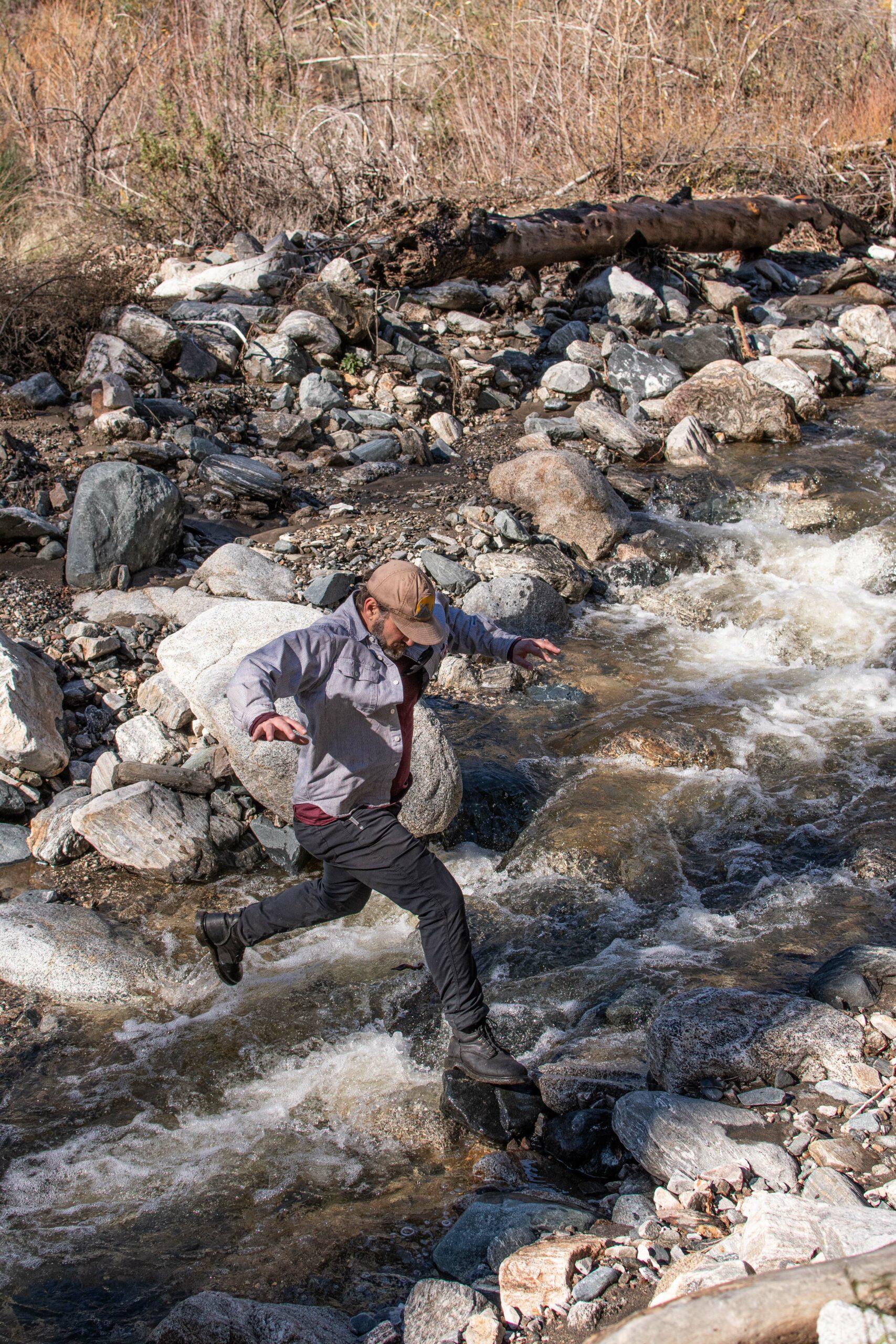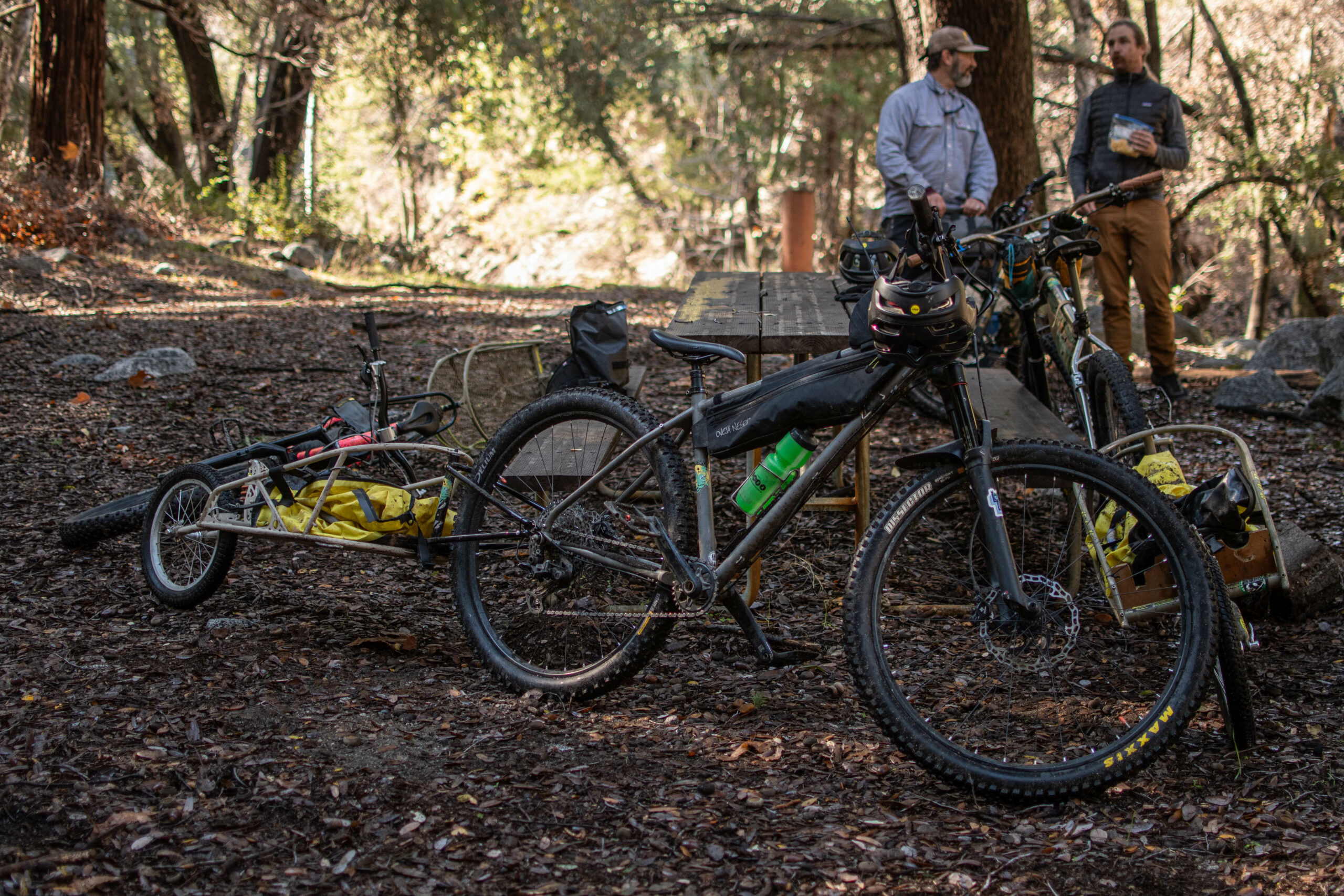 Friday — Scouting
I had been texting with Erik for a few days before the trip, planning and getting some of the details sorted. He knew my flight and was kind enough to offer to pick me up and head straight up to the trailhead. I was more than happy to not have to deal with finding an uber/lyft and dealing with luggage. Erik was at the airport waiting with a delicious breakfast burrito, which would serve as the first of many instances of incredible hospitality throughout the weekend — and I thought southern hospitality was only in the actual south! Erik and I headed straight up Angeles Crest Highway to begin our mission for the day, scouting.
It had rained the three days before I arrived, which to me was no big deal, but to LA a little rain in the city means BIG TIME rain in the mountains. It sounded like the weather station nearest our trailhead, Red Box, had recorded over 10″ of rain the previous day! Erik and his fellow Lowelifes leaders, Matt and Rob, were worried about access to the zone which they were planning to work. We got to the trailhead and I took a solid 30 minutes to assemble my bike. I was impressed to find that TSA hadn't messed around with my packing job, and nothing was missing. Erik asked if I was OK towing a BOB trailer with me that day. I obliged. Then he proceeded to put what looked like a demolition hammer and a handful of large batteries inside the trailer bag. After taking a few minutes to enjoy our breakfast burritos we mounted up and headed through a gate and down Rincon Red Box road.
The fully loaded demolition hammer in my BOB trailer made what would normally be a tame descent much spicier. As we descended, Erik pointed out all the washout damage from the previous storm. Some of the damage was small ruts and slides, but in other spots, entire culverts were washed out. We had some fun plowing our bikes and loaded trailers through some of the extra chunk. Toward the bottom of the canyon we started traversing the West Fork San Gabriel River. Erik mentioned that this river runs year round, but that it is normally just a small creek. As we approached the first crossing I was thankful that I had brought my Goretex shoes. We ended up getting deep in five different creek crossings on our way to the campsite. We navigated through some mud and over a few washouts, then finally arrived at West Fork Camp to meet up with Matt and Rob.
Matt and Rob both have day jobs, and needed to prep for the upcoming weekend out with volunteers, so time was precious. We did a quick meet and greet, then got to stashing the tools and headed out to scope the trail. The first obstacle was the level of the river at the campsite. It was substantially higher than usual because of the recent rainfall — a major theme for the weekend. After some tossing of rocks, and a wee bit of deliberation, we decided it was best to ditch our shoes and walk across. On the other side we found much of the same. If the water level was any higher we would have had to embrace our inner Huckleberry Finn!
The plan for the volunteers was to continue work on the southern end of the Silver Moccasin trail. This is a unique section of trail that descends from a ridge down into a creek bed. The trail meanders back and forth across the creek a few times, which in the summer is a challenging rock garden. Today it was more of a swim. We made our way up the trail to the tool stash. Matt, Erik, and Rob made a rough plan for the volunteers while I avoided stabbing myself on some nearby yucca. Then we headed back down to grab our bikes and head out. On the way down I had the chance to learn about some of the local terrain, plants to avoid, and past projects that the crew was stoked on.
Driving back down into LA as the sun was setting, you can really begin to understand why people fall in love with this city. Beautiful beaches that crash into a concrete jungle brimming with culture which eventually crashes into huge mountains filled with raw and rugged backcountry terrain. Whatever it is you love, you can likely find it in and around LA. I had the pleasure of spending the evening at Erik's house with his wife, Peg. He showed me around their beautiful Altadena homestead before we headed into town to grab chicken at Zankou, and supplies for the campout. Then we called it a night.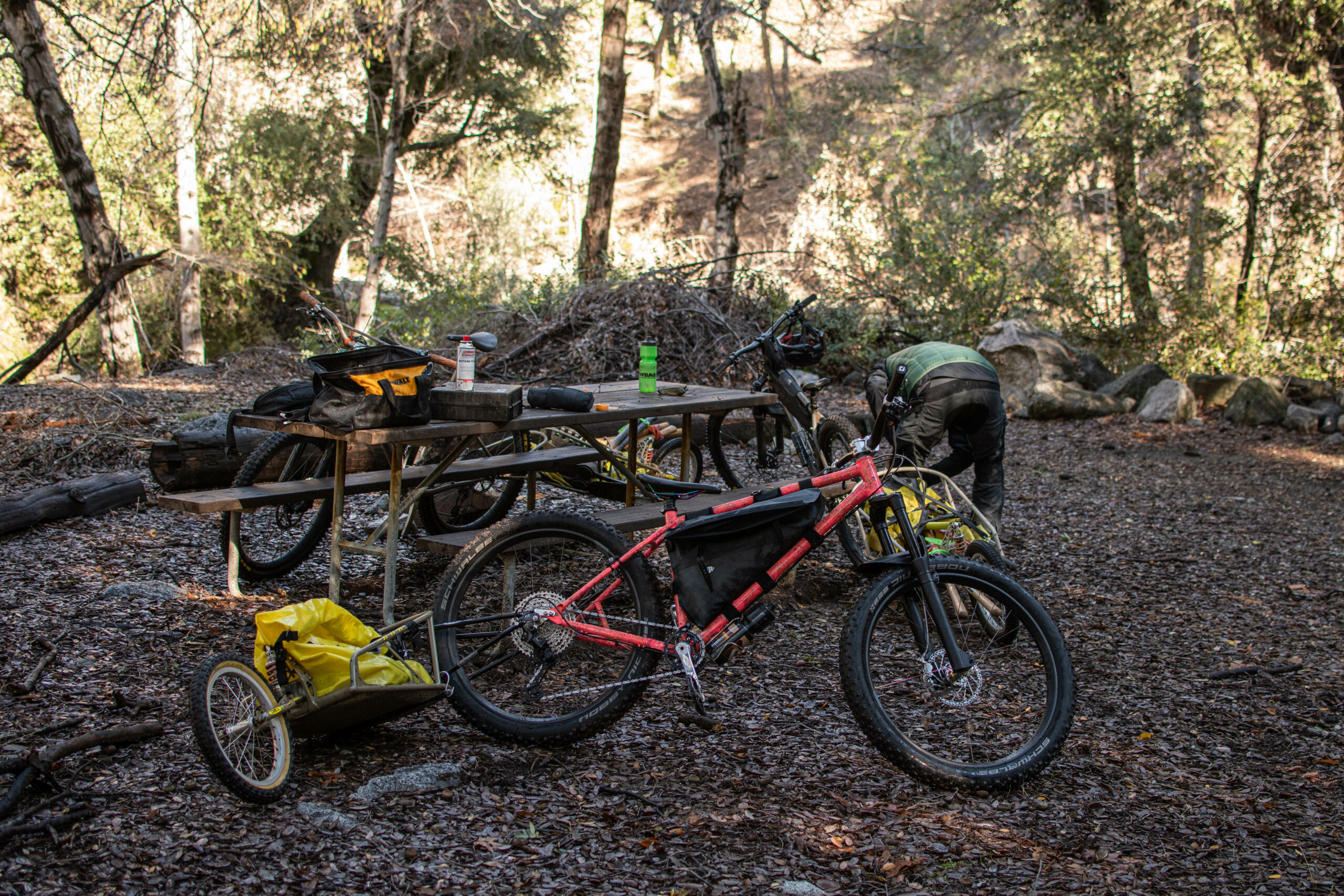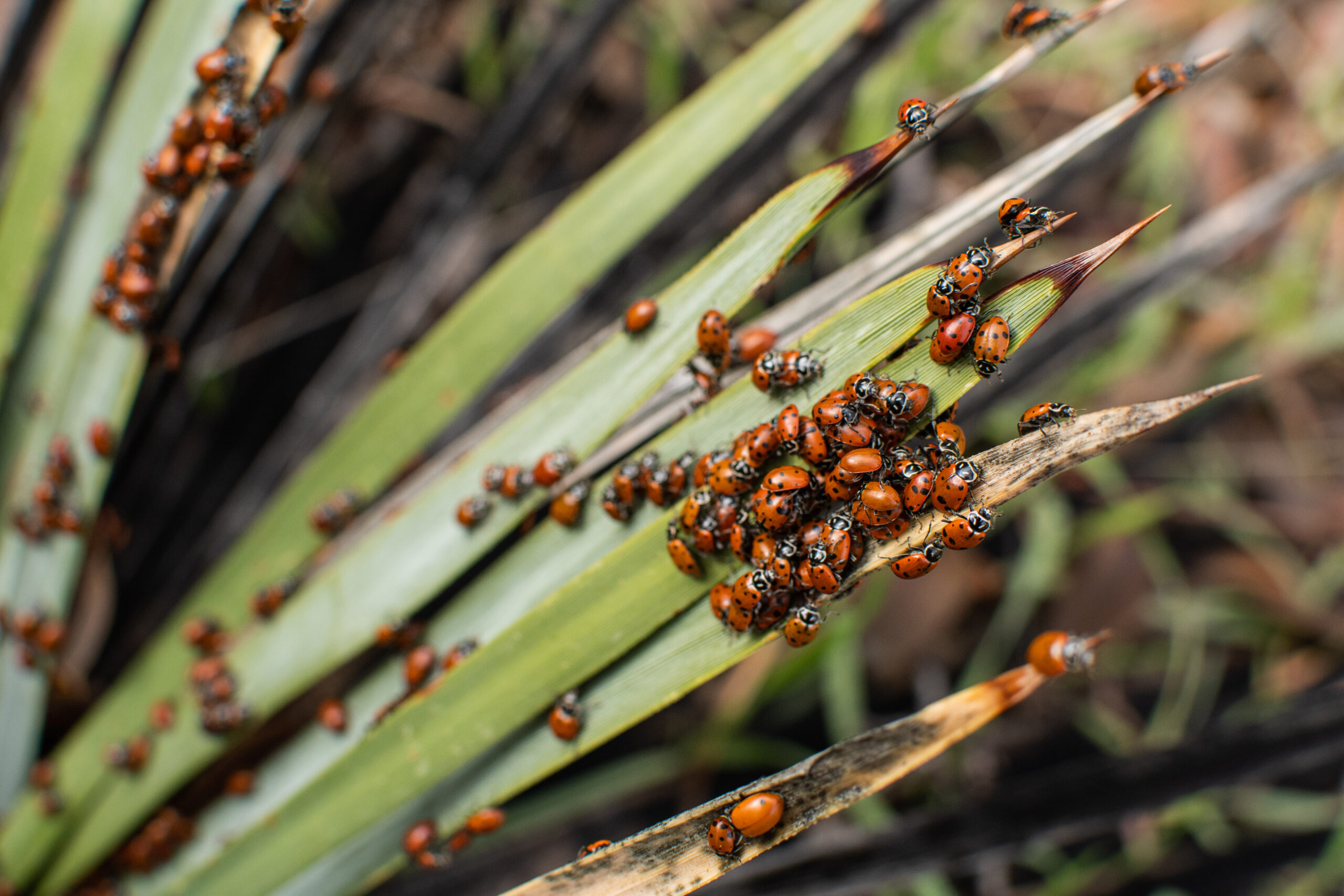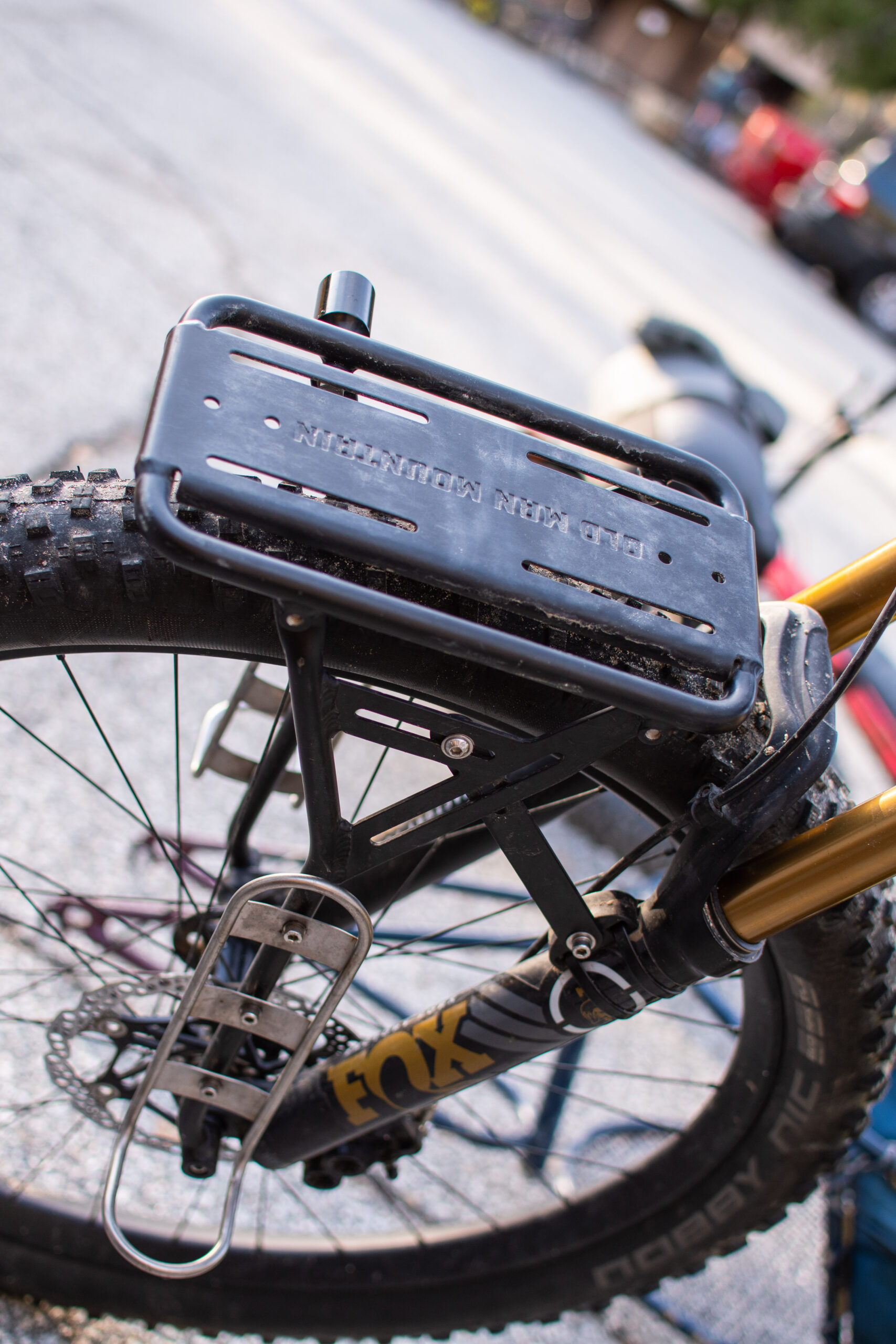 Saturday — Work Begins
Erik and I started the day with some oatmeal and coffee. With our bellies full we hopped in the van and headed back up to Red Box Trailhead to meet Matt, Rob, and the Volunteers. Lowelifes really nail the hospitality. Where Volunteers had to check-in and sign their wavers, there was a giant assortment of doughnuts, and other delicious homemade baked goods. Lowelifes also come packing some serious swag. Koozies, Hats, Tees, etc. If you wanna show off your Lowelifes love, they got you.
Another unique aspect of the Lowelifes crew is that they encourage all types of trail users to volunteer. We had a handful of backpackers show up to join us. After all, the trails in the Angeles National Forest are multi-use, and Lowelifes are at the forefront of building better relationships between user groups. While the founders are mountain bikers at heart, it is the desire to expand trail access for everyone that drives their passion for trail work.
It was really cool seeing how much love and character went into all the bikes. Everyone had their own unique setup with builds to match their personalities. The bikes ranged from a fully rigid 27+ drop bar adventure bike, to a Titanium Hardtail with 160mm fork, and everything in-between. Check out the bikes and their setups below.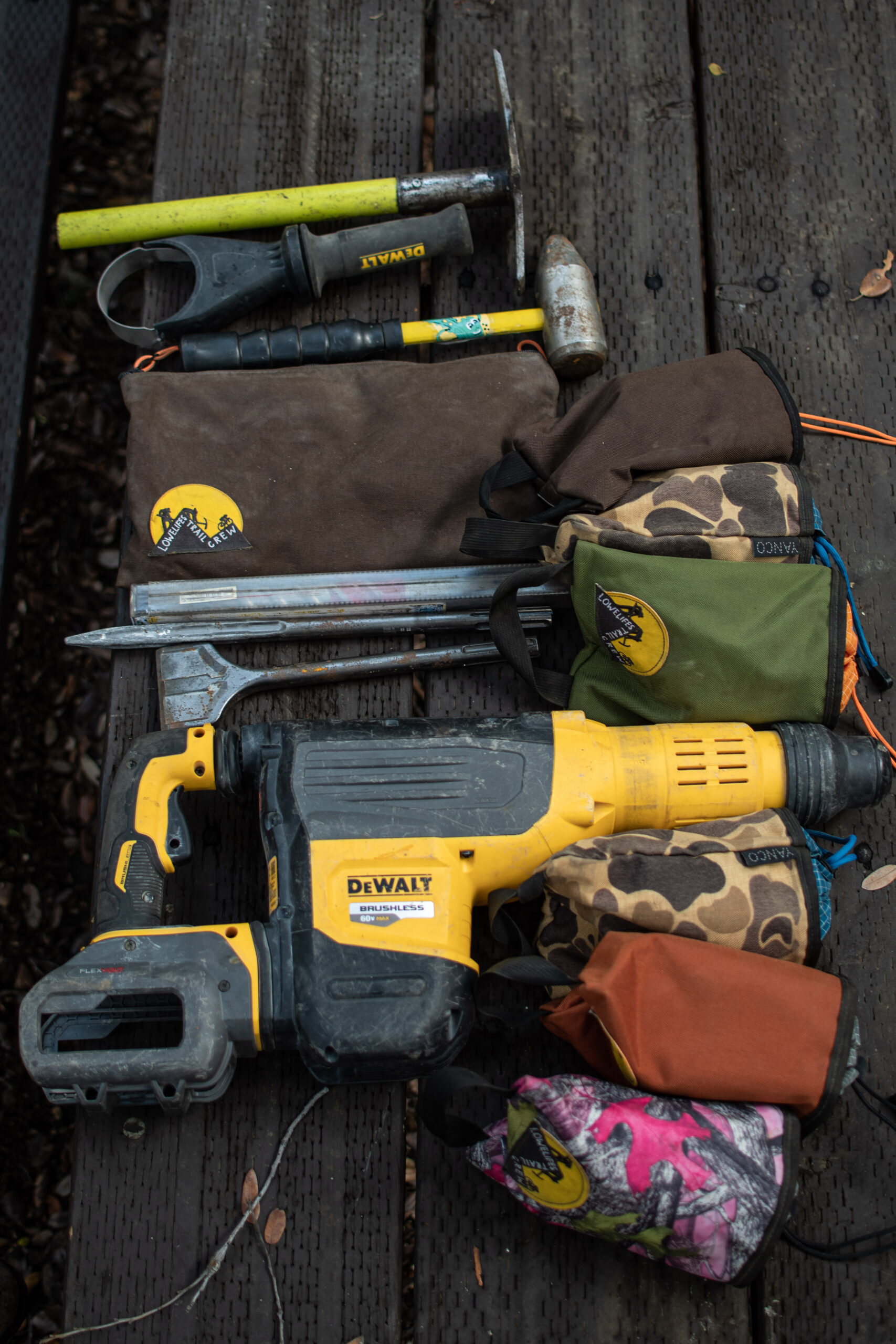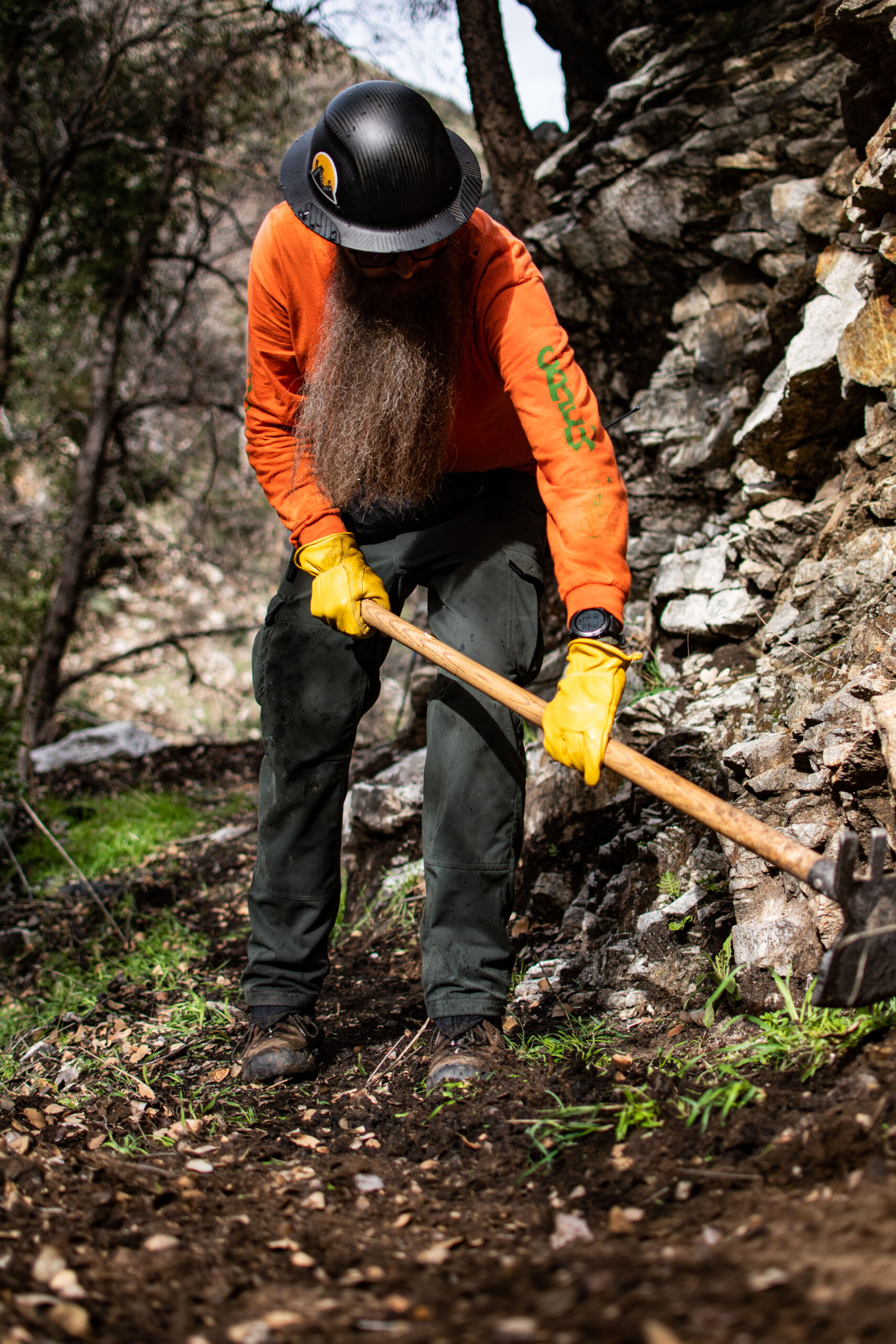 After getting everything dialed and stuffing our faces with baked goods, we departed. The group made their way down the Rincon Fire Road. Everyone tackled the challenging washouts and ruts with confidence. It was especially fun watching everyone's style getting across the various river crossings. Some volunteers wore sandals and walked their bikes across, others just charged right through hoping for the best. We were all flirting with wet feet the whole weekend.
We arrived at camp and everyone claimed their spot. The plan was to setup camp and the kitchen then head out for work. Just like with the bikes, each volunteer had their own setup. There were bivys, hammocks, traditional backpacking tents, and lightweight tarp setups. I brewed a cup of coffee and packed all my camera gear up to head out.
We grabbed the tools from camp that we had brought in yesterday, including the giant demolition hammer and collection of batteries. I was very excited to see what project they had planned for that. The volunteers had a high level of stoke going into the work day. It was energizing to be around that energy. There were only two first-time volunteers. The rest of the crew had been volunteering with lowelifes anywhere from 3 months to 3 years. Lowelifes has a dedicated following, and for good reason — which I hope I can illustrate!
As we made our way up the trail, Matt formed three groups. The first group was led by Rob, and they focused on benching and clearing the bottom of the trail, from camp up. The second group would focus on rebuilding a section of trail that fell apart in a previous storm. Most of this work involved the demolition hammer, picks, and rock bars. The team had to break apart the rock wall as best they could to make a safe passage across the cliffside. The third group headed further up the trail to bench and clear a corridor as far as they could get.
The work is tough. I am used to moving ferns and working with beautiful clay-rich soil that packs into features with a few slaps of a shovel. The SoCal soil was mostly sand and decomposing granite. It is loose and doesn't want to pack. On top of the soil there's a handful of flora that you need to avoid. This was my first encounter with poodle dog bush, but you also need to watch for poison oak, and you need to avoid getting speared by yucca and white thorn. It seemed like everything in the forest was trying to get you, but boy is it beautiful down there. A half-hour drive from LA, and a short bike ride and you find yourself deep in the backcountry. Rad.

We wrapped up work about an hour before sundown and made our way back to camp. I had heard rumors of the gourmet spreads they put out for dinner, so I was excited to experience it first hand. Matt manned the grill firing up various meats & meat-like fillings. There was Pork, Chicken, Chorizo, and Soy Chorizo. Erik was manning another burner, hand pressing tortillas and pan frying them to perfection. In the middle of the table were bags of toppings. There was a literal gallon of guac — apparently Californians have little regard for how precious avocados are. They also had a brilliant assortment of hot sauces. Matt started to grill quesotacos as it got dark, and everyone ate as much as possible. After dinner the group sat around the fire to share stories, and connect. It is unusual to be able to have a fire in an area that is usually so dry, so we savored every moment of the fire.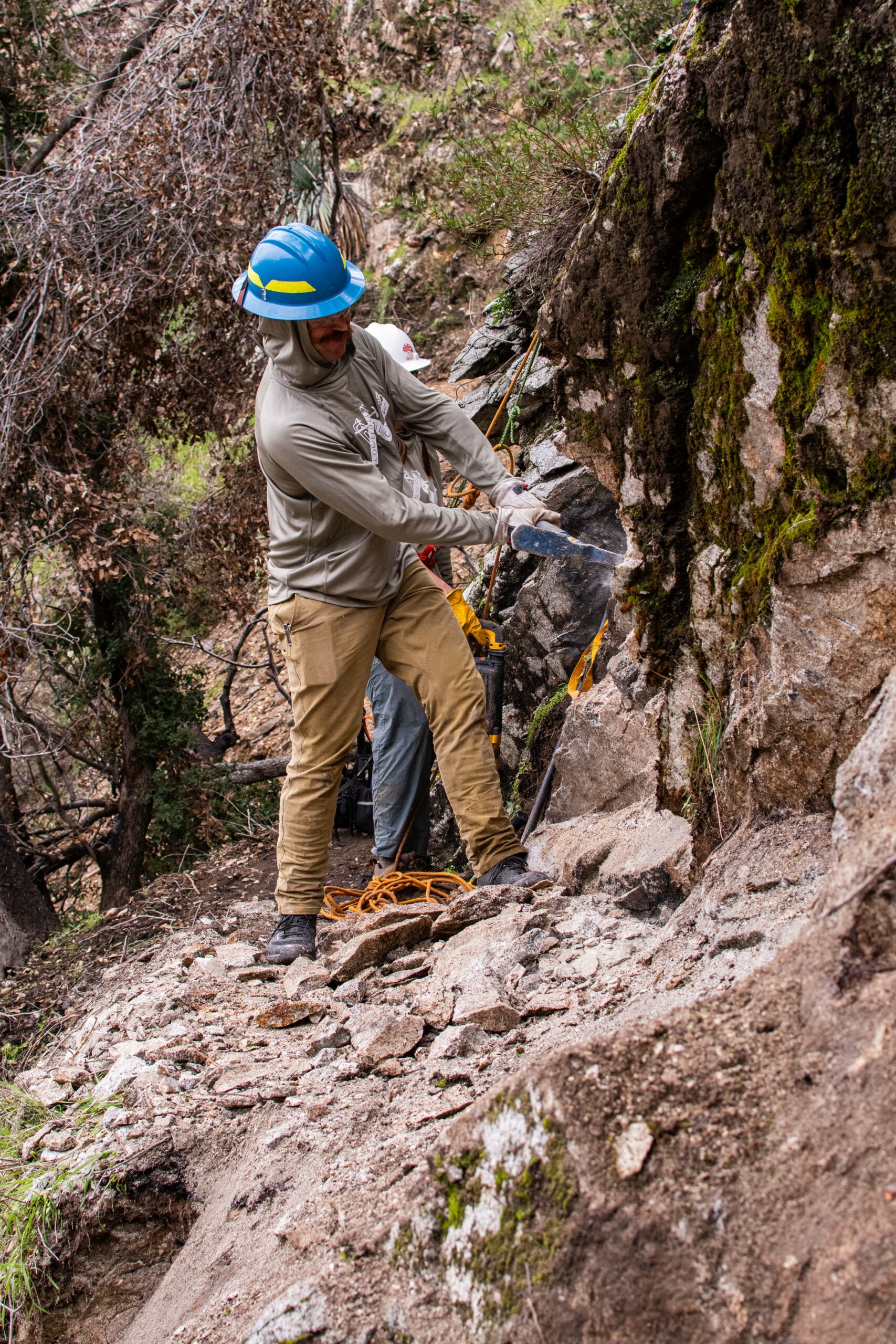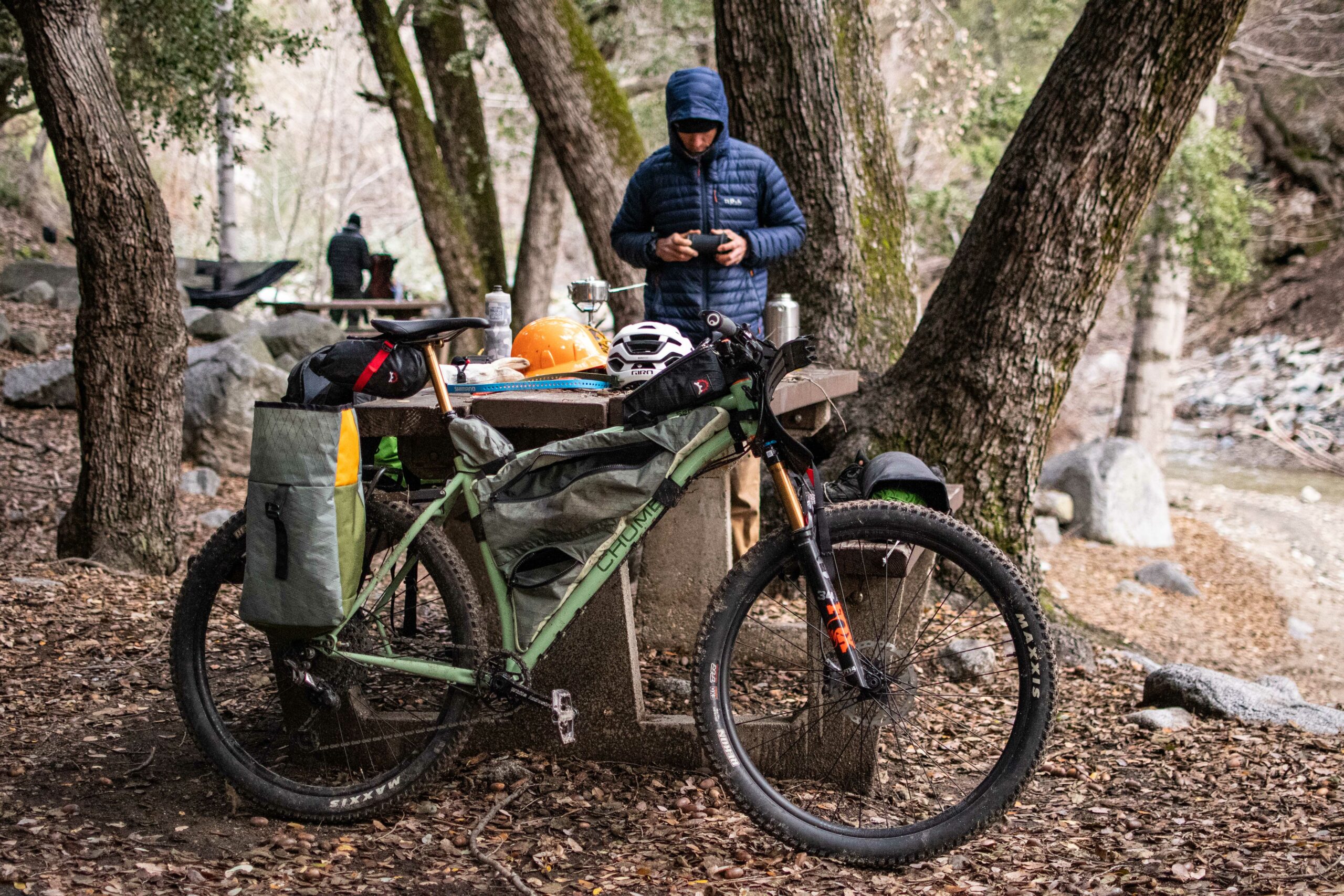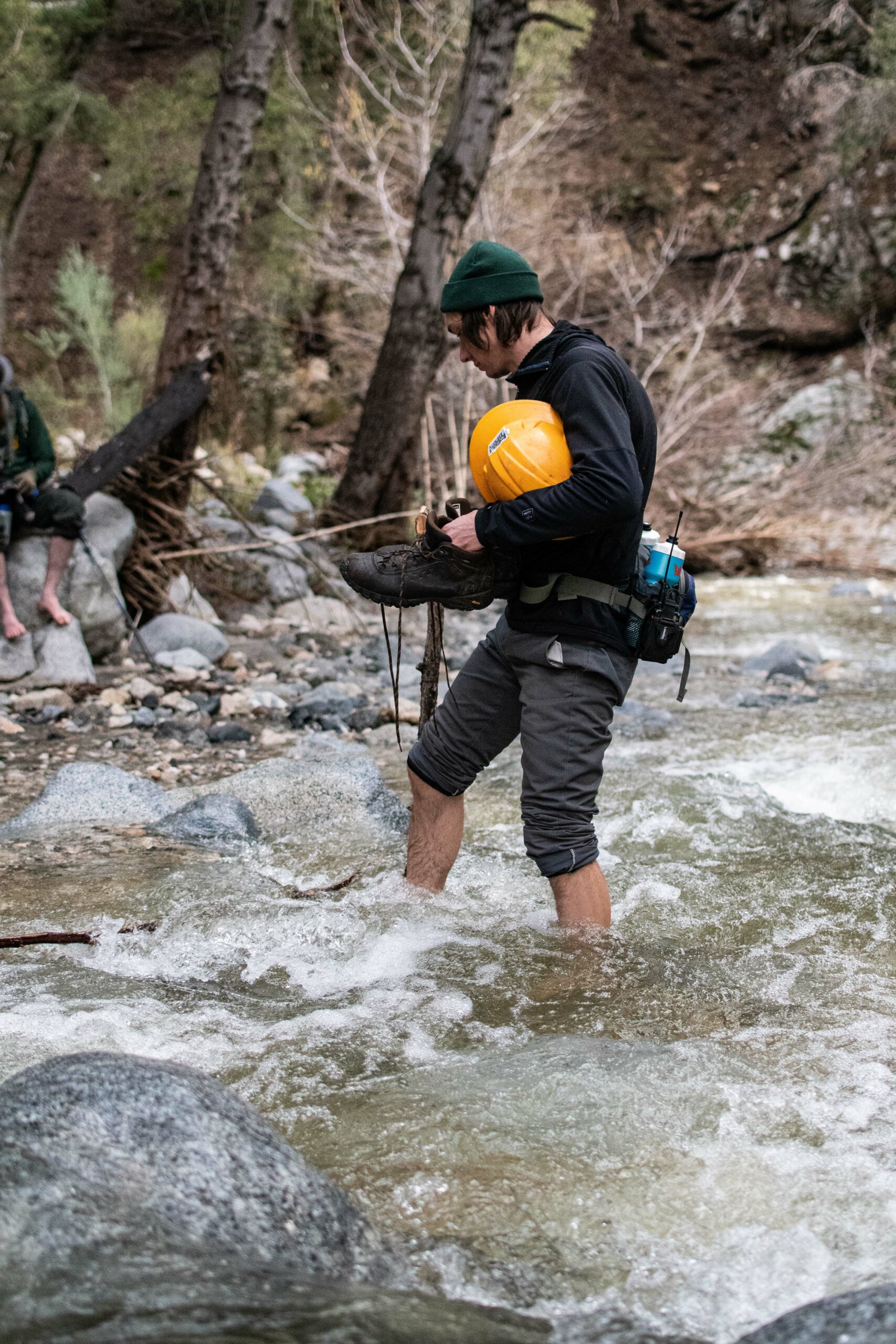 Sunday — Work & Depart
It was a chilly morning, but everyone was in high spirits after the big meal and campfire the night before. Everyone had their own breakfast supplies, and we broke camp after enjoying some hot drinks and small meals. We removed our footwear and forded the river once again. Each group returned to their respective work zones to continue work and push to finish as much as they could in the limited timeframe. The winter work parties have to deal with the cold, the water, and the lack of daylight. Especially in the canyons where the sun can disappear quickly, and the temps can drop sharply.
The group on the rock wall made considerable progress with the demolition hammer. Breaking off substantial chunks of the cliff, creating a safely passable corridor across for future trail users. The high group made even more progress clearing trail on the north end, almost connecting to the section of trail that breaks from the canyon and makes for the Ridgeline. The bottom group continued reinforcing their work and benching sections of trail to near perfection.
After pushing hard to finish what we could, Matt rallied the troops. We hauled the tool stash down trail, closer to the camp, where work would continue on the next campout. The group had a quick lunch break after admiring all the hard work. We made for camp, and forded the San Gabriel River one final time (just kidding, we crossed it many more times on the ride out:).
Everyone was in high spirits on the climb out. There's something very rewarding about putting in long days on the trail. It helps build a physical connection to that specific zone. The unique smells, textures, and feels all build an unforgettable bond between person and place. The Lowelifes crew has an intimate relationship with the San Gabriels, many of them knowing the trails like the back of their hands. We reached the cars as the temps dropped right before sundown. The group exchanged high fives, indulged in the leftover baked goods from sign up, and posed for a quick group photo.
Sunday night I spent hanging with Matt, the co-founder of Lowelifes. We showered up and headed out for some delicious Thai food. Matt and I chatted about the nuances of trail building over laarb and Thai tea. Matt has a breadth of experience and a charisma about him that makes it easy to understand why he has such a loyal crew of volunteers — remember, most of the volunteers come time and again. Matt talked in depth about the very real struggles of dealing with wildfire damage, and heavy winter rains. We chatted about their biggest project, the Condor Peak trail, and what made it so successful and unique. Unfortunately with storms rolling in the day before and day after, we were unable to ride it this trip, but I am excited to come back and have Matt show me the trail. The overall consensus is that the trail is legendary — a backcountry experience under an hour from our countries second largest city. After dreaming of single track heaven, we headed back to his place to crash for the night.
Monday — Back to the Real World
Erik came over first thing in the morning for a quick chat with me about Lowelifes, his role, and perspectives. He offered many similar perspectives as his fellow Lowelifes leaders, but also had some very unique ideas on how trail stewards should act. Erik is currently pushing the "Be Nice, Say Hi!" campaign, which encourages trail users (specifically Mountain Bikers) to be kind trail users. The trails of the Angeles National Forest are all multi-use, and it is of paramount importance for advocacy groups that the cycling community play nicely with the other user groups. Erik lives this ethos on and off the trail. After our chat, Matt was kind enough to drive me and all my stuff to the airport. It was pouring in LA that day, which was something I had never experienced. The LA river was almost overflowing, and the drivers were struggling with all the water on the roadways. It was easy to see how such high levels of precipitation can affect a place that sees rain so infrequently. My flight was on time, and trouble free.

The Lowelifes Experience
I went into this trip not knowing what to expect. I assumed that LA was full of pretentious riders on fancy bikes, just there to be part of a scene.
What I discovered was a wonderful group of humans with a passion for giving back to their community through trail work. Each leader and volunteer offered a unique perspective, and a unique motivation. The crew was friendly, warm, and welcoming.
From the moment I landed until the moment I left, I felt like part of their family. Over the weekend I built a great bond with the leaders and volunteers, and I look forward to returning to Los Angeles to join them on more campouts, rides, and other shenanigans in the beautiful Angeles National Forest.
Trailcrews survive on volunteer hours. If you have the means, I urge you to donate your time and money to your local trail advocates. If you are in the Los Angeles area, please take some time to join Lowelifes on one of their work campouts. I promise you wont regret it