WHICH RACK IS RIGHT FOR YOU?
We have all found ourselves in analysis paralysis when gear shopping.
Divide vs. Elkhorn, Elkhorn vs. Divide? Do you choose one of each, or do you run matching front and rear? Do you go handlebar roll in the front and rack in the rear? Saddlebag and front rack? Do you axle mount or do you eyelet mount? Do you just get khaki cargo shorts and stuff those pockets?
The options available to modern bikepackers are unlimited. If you are curious what the advantages are to each setup, you're in luck. In this article we'll compare The Elkhorn, and The Divide, and tell you a bit about a few of our favorite setups, and where we like to use them most.
But first let's talk a bit about why you would choose to run racks on your bike in the first place!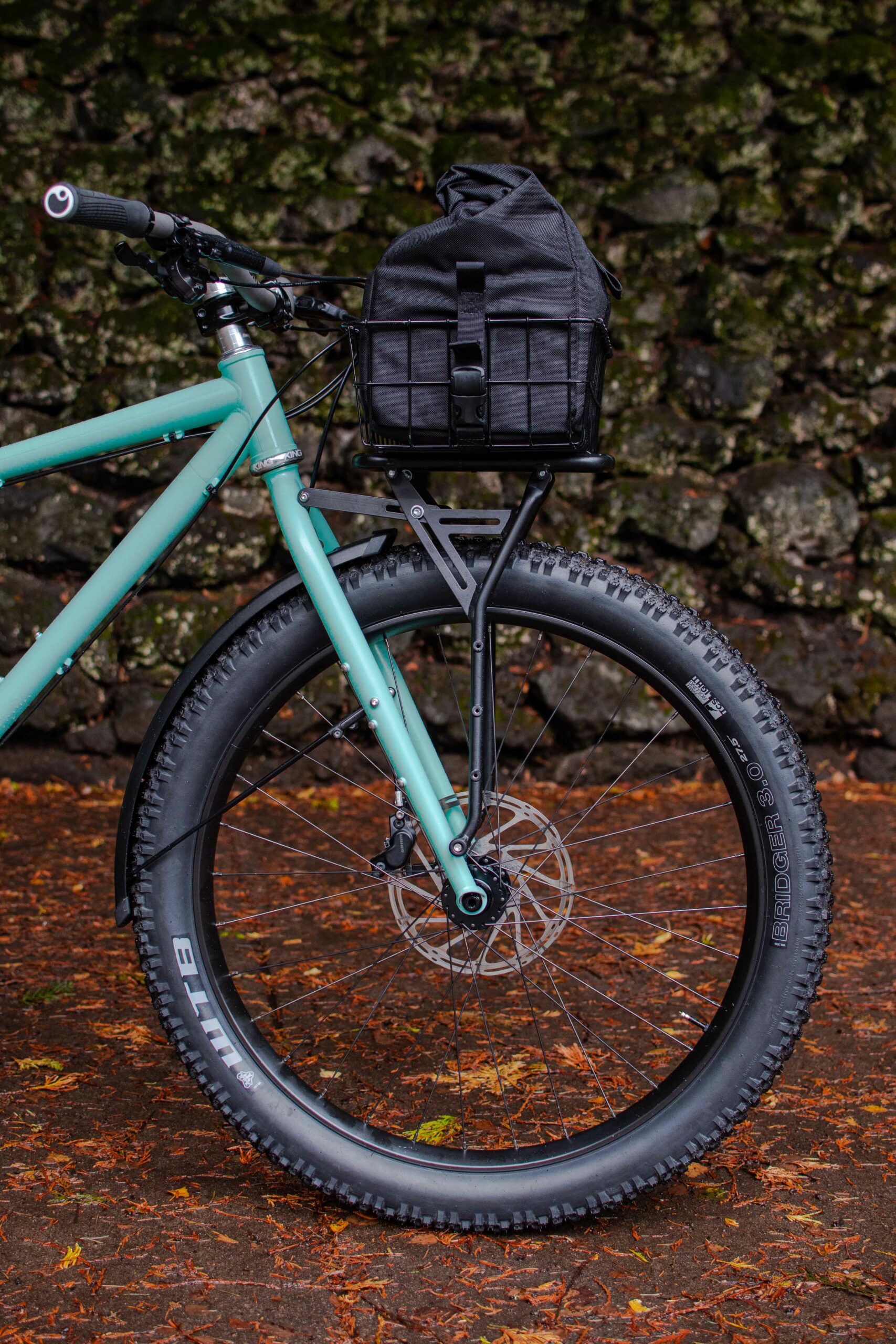 FRONT RACKS
Pulling your gear off the handlebars and onto a front rack lowers your center of gravity, clears up your cockpit, eliminates rattles, and puts less pressure on your cables & hoses. Front panniers / 3-pack mounted gear isn't as easily accessible mid ride but this can easily be supplemented with feed bags, a bento box, a trunk bag, or basket.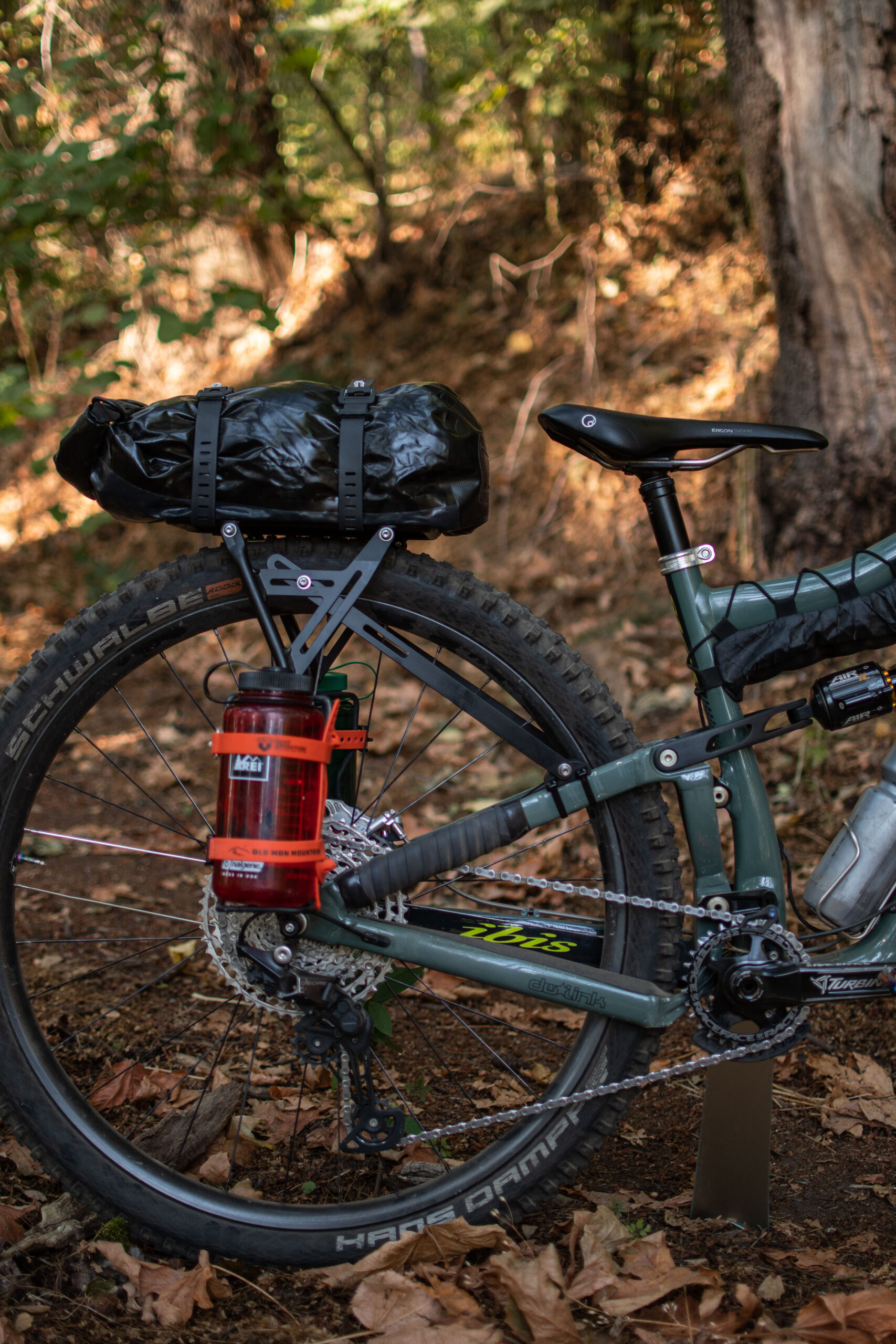 REAR RACKS
Removing gear from your seatpost gives you a lot more confidence. Seatpacks tend to shake, rattle, and roll into your tires. If you don't secure your seat pack properly, straps can get tangled in your rear wheel, which can result in some seriously unfortunate situations. A rear rack provides a secure and stable platform that gives you unlimited options, and much more storage space. Pulling the gear off your seatpost also lowers your center of gravity and gives you freedom to use a dropper post, making it much easier to maneuver your bike over technical terrain.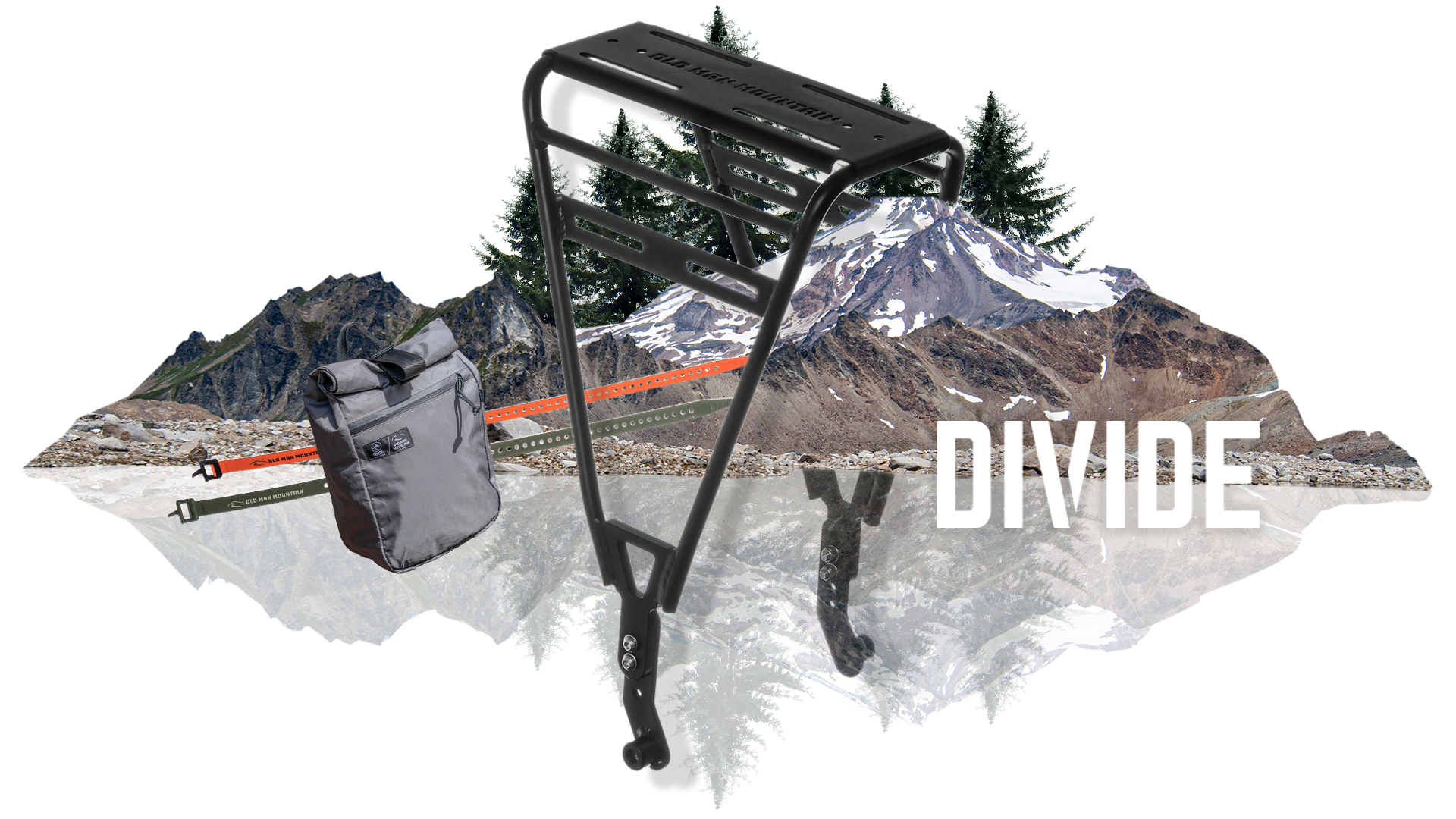 The Divide is our tried and true workhorse. It carries panniers like no other rack can. It is constructed with extremely robust aluminum, and secured to your rig with the best steel hardware. Built with a versatile dropout system that lets you adjust the tire clearance and secure the Divide on virtually any bike — we even make a version specific for fatbikes! This rack is truly a beast.
The Divide's solid deck lets you utilize baskets or bags on the deck without worrying about your tire rubbing through your gear or your gear getting caught and turning into an "emergency brake". It also doubles as a fender to keep mud off your gear and off your body!
DIVIDE FEATURES
HEAVY DUTY
We construct The Divide with robust 13mm 6061 aluminum tubing to keep it lightweight and strong, like seriously strong. It can carry up to 75lbs when mounted with one of our fit kits.
VERSATILE
Adjustable dropouts cover just about any bike, front or rear, any spacing, QR or Thru Axle. The Divide clears up to a 29×3" tire with room for fenders! We even make a divide for fat bikes.
PANNIER FOCUSED
Our 10mm pannier rail will fit any pannier on the market. The pannier rail is set lower than most racks to keep your center of gravity as low as possible. The lower hook on our Divide let's you confidently hook or strap your pannier for the bumpy roads ahead.
SOLID DECK
Our solid deck provides a bulletproof attachment for trunk bags, dry bags, chairs, and anything else you can dream up! Our Old Man Mountain Voile straps will help you secure whatever you like to the deck.
DIVIDE SETUPS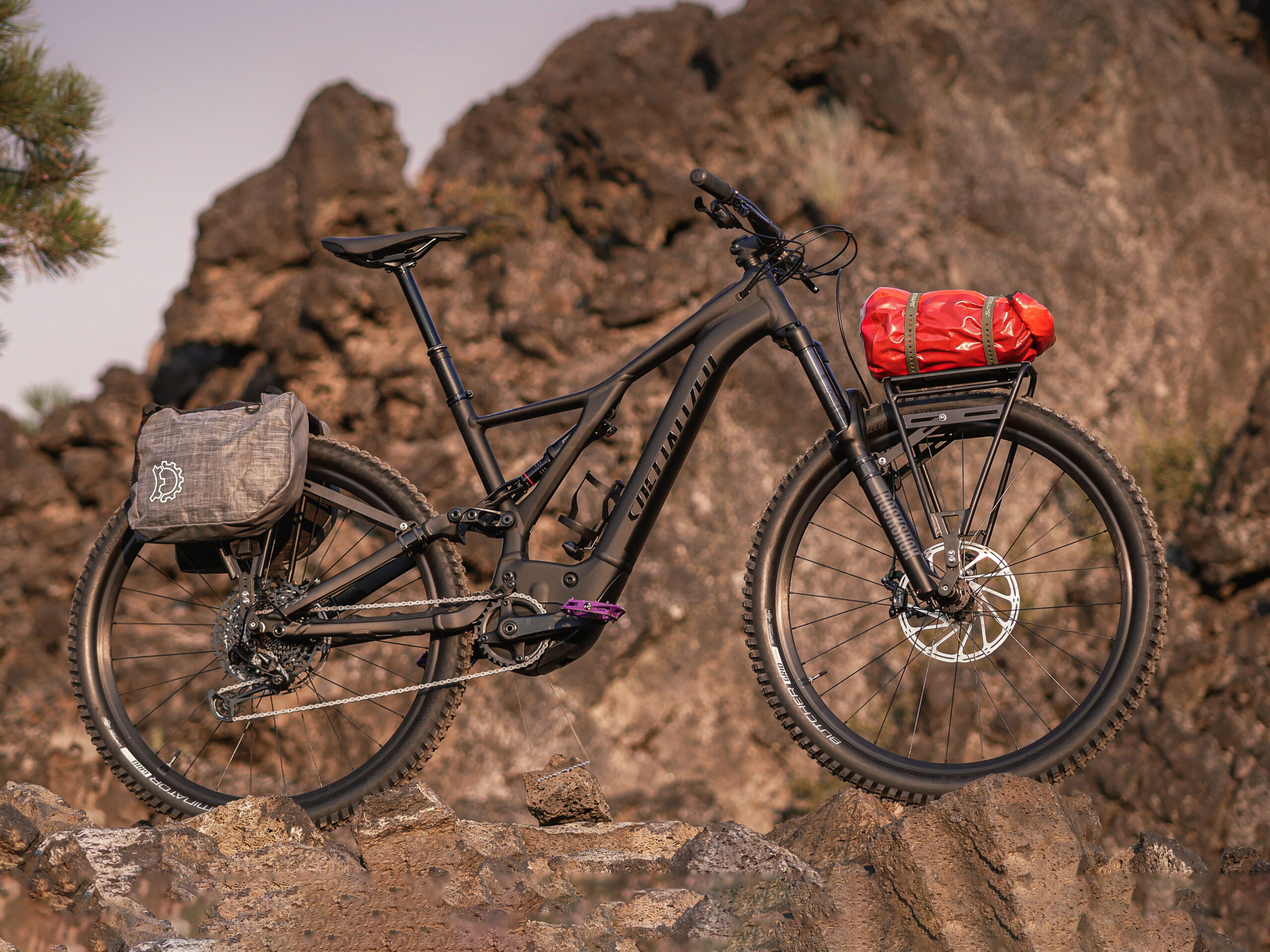 FRONT & REAR DIVIDE
This is the off road version of traditional touring. Panniers are capable of carrying a large volume of gear, and make packing easier and organized. Dual decks give you a ton of versatility mid trip, or you can take advantage of the extra space from the get go. With so many mounting points you can balance the weight of your gear evenly.
RECOMMENDED GEAR
RECOMMENDED APPLICATIONS
Camp focused trips / road or gravel focused routes
We like to run front and rear divides on less technical trips that focus more on time at camp. With all the additional space we can bring some extra luxuries like our camp chairs, gourmet meals, and games to play at camp. Plus you can bring your big tent, comfy pad, and extra warm sleeping bag! Remember, not all bikepacking trips need to be ultralight FKT attempts. It is fun to get out and spend time in the woods off of the saddle.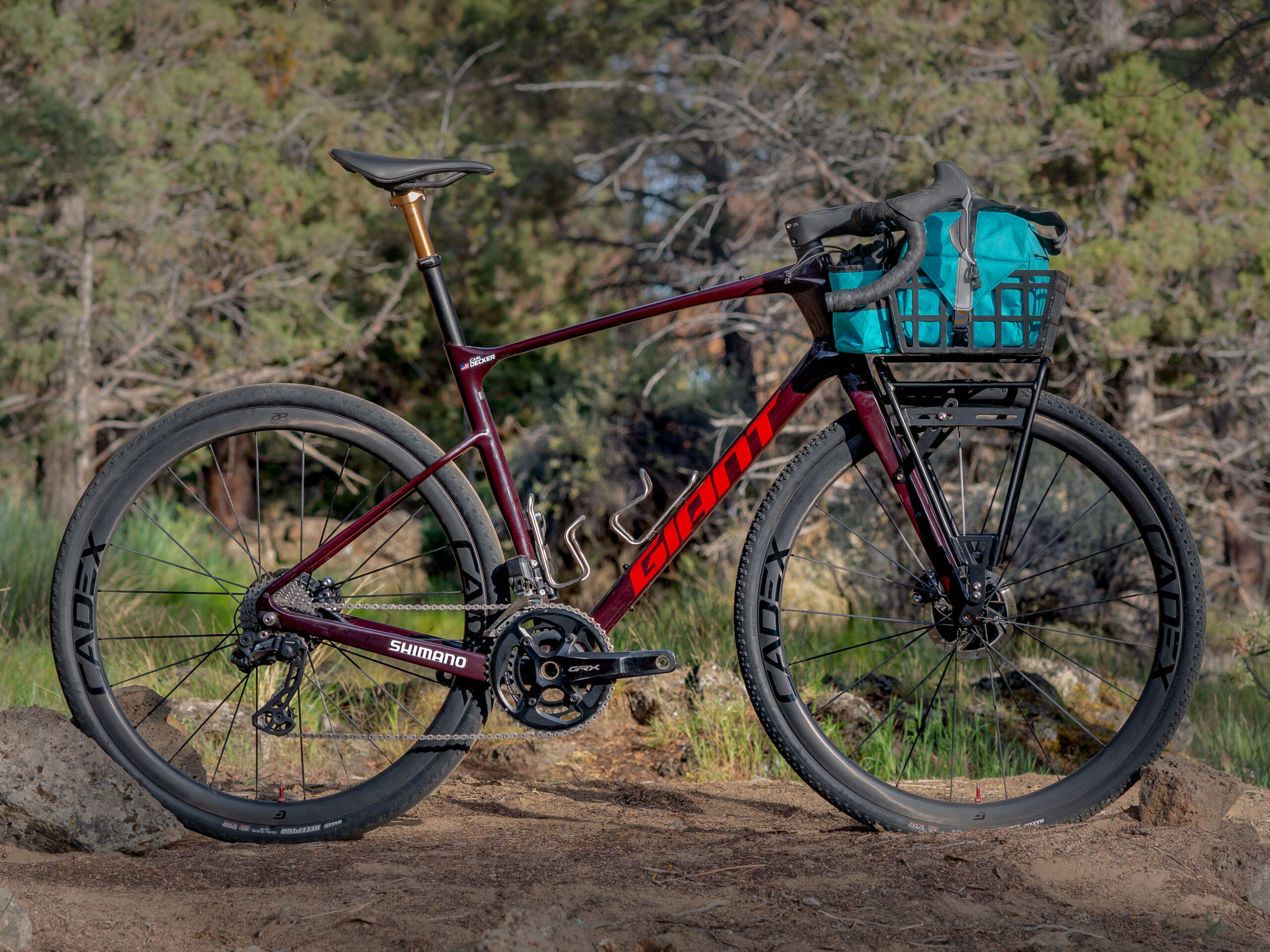 RECOMMENDED APPLICATIONS
More technical routes / colder weather trips
The additional carrying volume of panniers over a handlebar roll or bag allows you to bring a few more luxuries. It's also great when you need to pack a bulkier, cold weather sleeping bag. Making it an ideal setup for shoulder season bikepacking trips where you want a 3 season tent and comfy bag. With all the bulk up front and nothing out back, it means you still have the nimbleness when it comes to hiking with your bike — which is inevitable on your bikepacking adventures.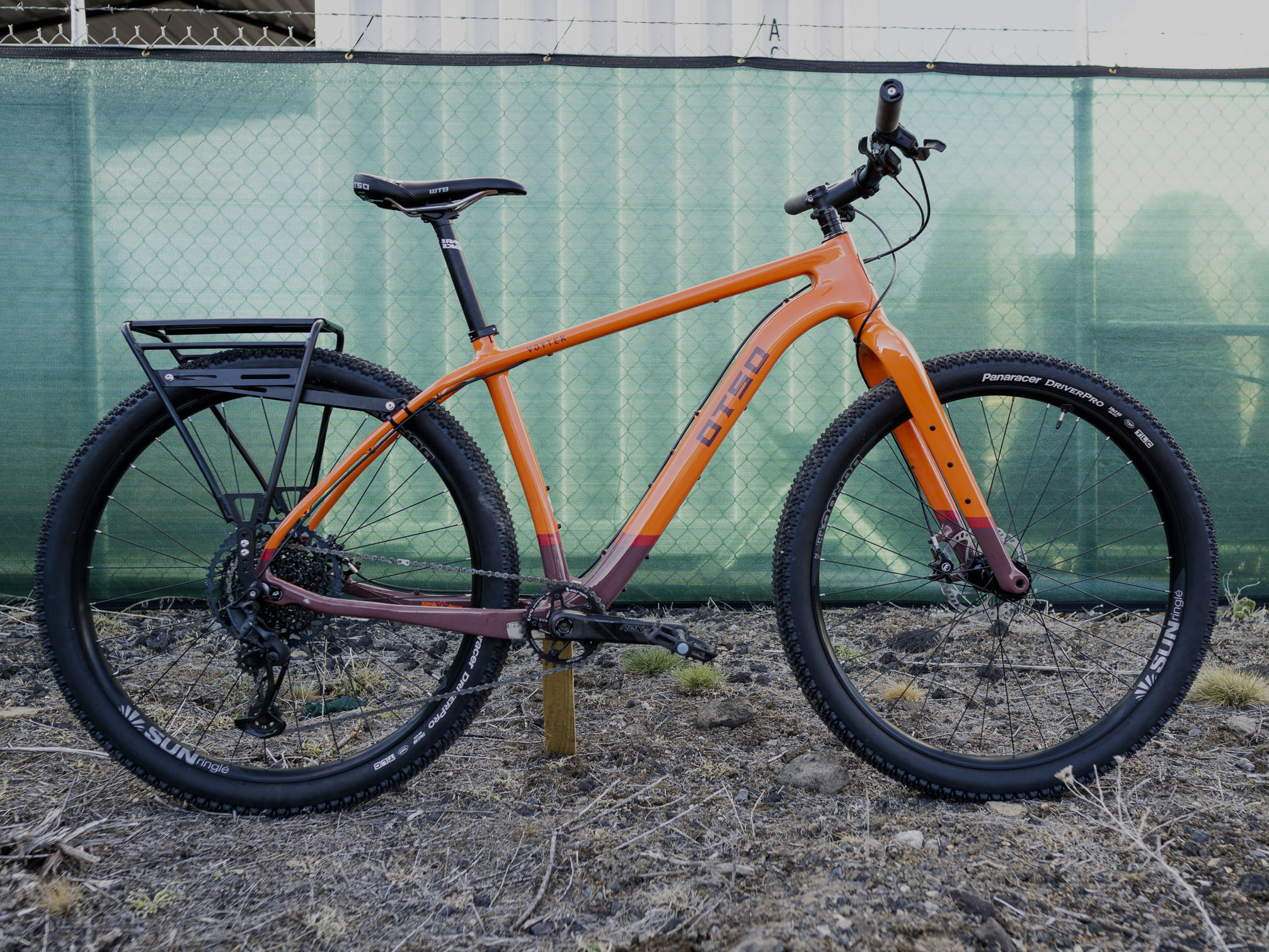 REAR DIVIDE
A rear rack with panniers is a timeless classic. Just like using panniers on the front, this gives you additional storage without affecting your steering. This might be useful when you're trying to bring heavier bulky items, or if you know you're not going to be spending a lot of time hiking your bike.
RECOMMENDED GEAR
RECOMMENDED APPLICATIONS
ROUTES WHERE YOU WANT YOUR STEERING UNHINDERED
Adding weight and bulk on the rear is a great way to keep your bike steering feeling the same. This means that you can relax a bit more up front, and maybe even take your hands off the bars. This is a great solution for road or gravel focused tours where taking breaks from riding position is key. We also like this setup where dropper use is key. Finding a good balance of weight is a good idea, and a frame bag can work really well with this setup.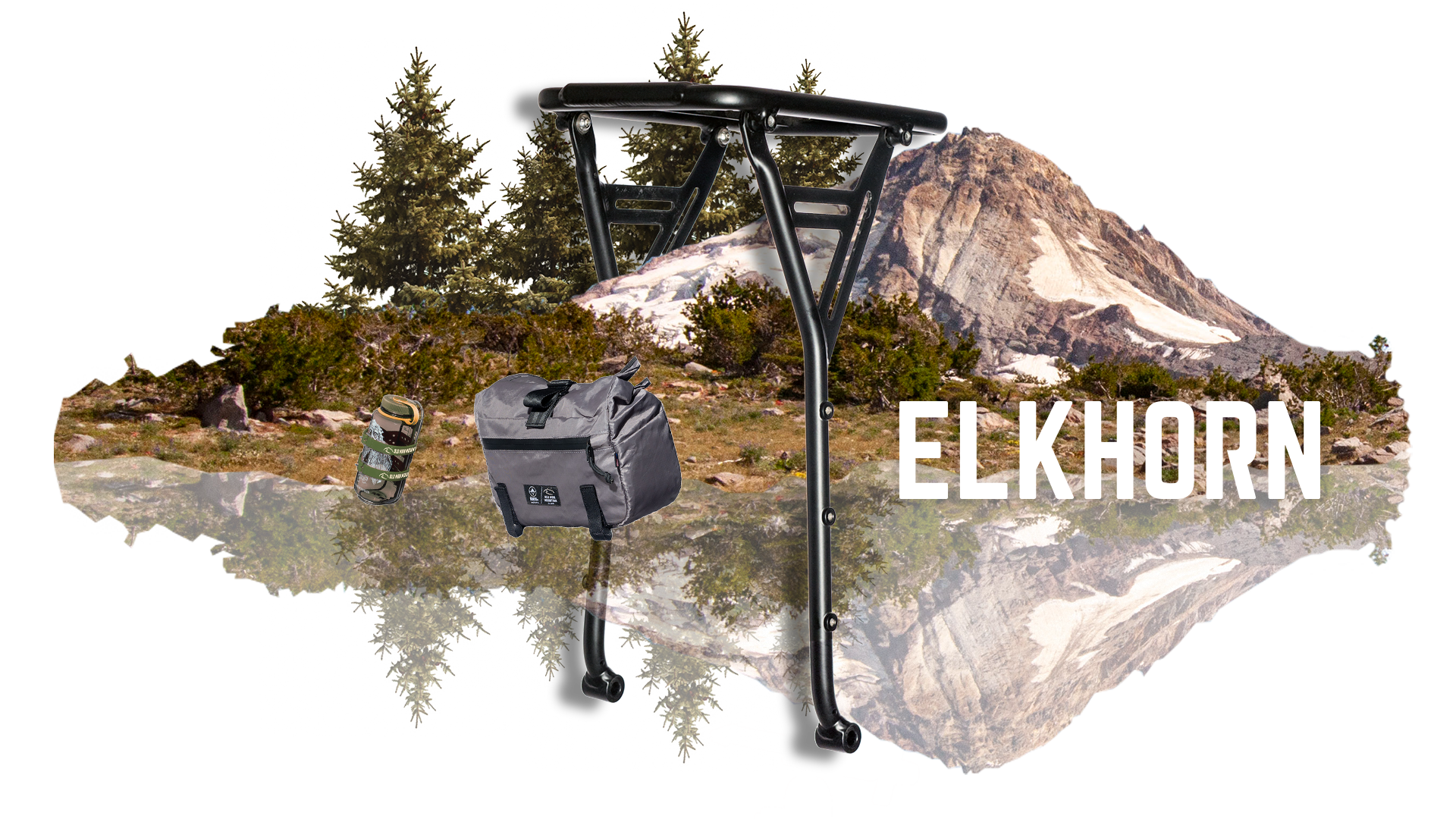 The Elkhorn is our light and nimble gear hauling machine. It mixes a solid, sturdy deck with 3-pack mounts on each of the uprights. This gives you the flexibility to mix and match your setup. It works as well on the front as it does on the rear. The 3-pack mounts provide an almost unlimited array of accessories to mount; cages, bottles, bags, straps. The Elkhorn is amazing at carrying large quantities of water on those dry climate trips.
The deck allows you to get creative and use anything from a dry bag, to a basket, or a Randonneur style bag. Endless possibilities.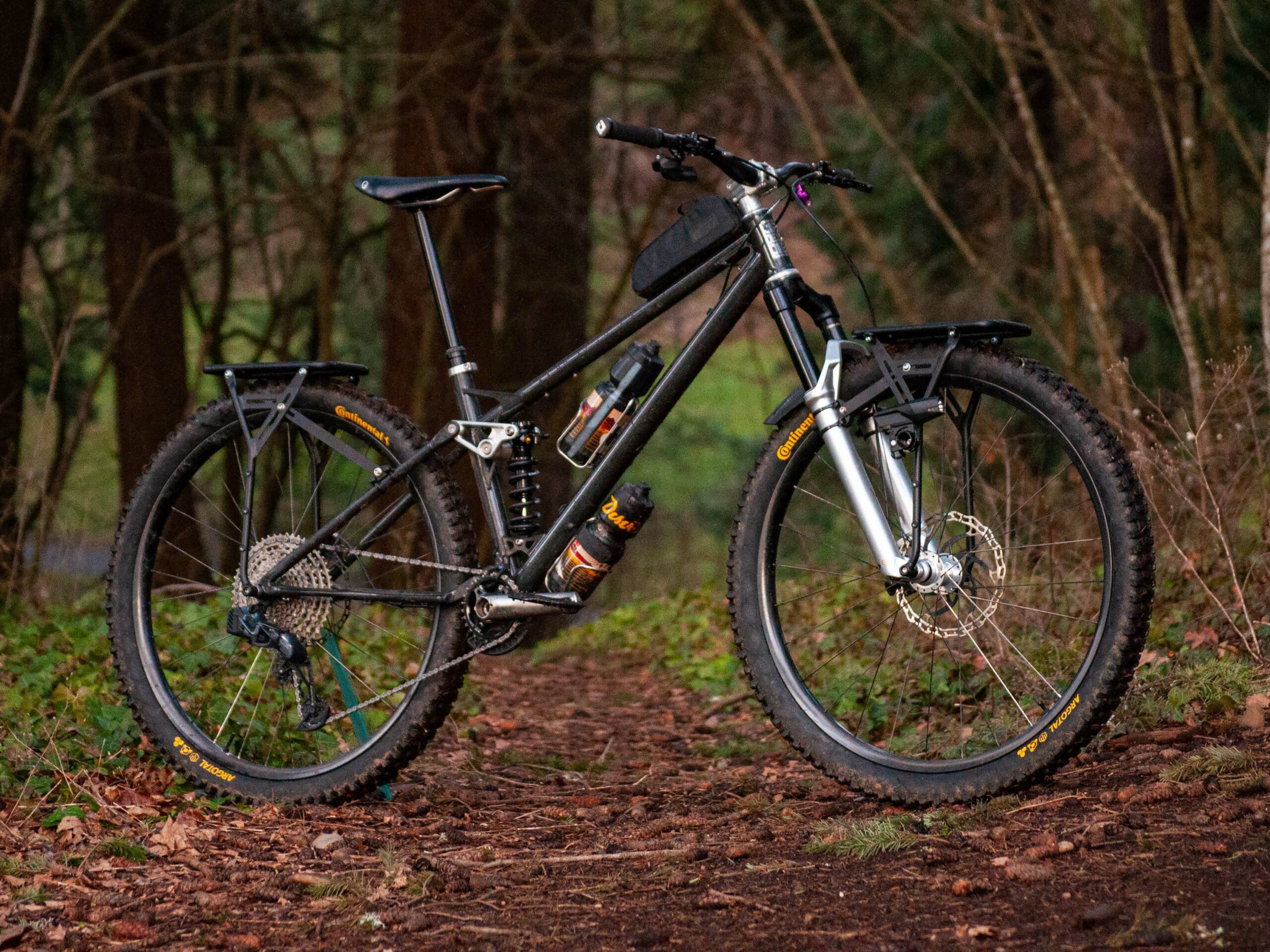 FRONT & REAR ELKHORN
This setup is unique in that it gives you unlimited options. You could run a large rando bag and bolt-on mini-panniers on the front, with Nalgenes and a dry bag on the rear. You could run 4 Nalgenes for maximum water storage and two trunk bags. The possibilities are unlimited!
RECOMMENDED GEAR
Dry Bag & Voile

Basket

Randoneur Bag

Mini Panniers
RECOMMENDED APPLICATIONS
Technical trips / mixed terrain routes / long distance
This setup is perfect for the rider that likes technical routes, mixed terrain, and longer distances. The Elkhorn platform allows you to make micro adjustments to your setup based on the individual route & weather forecast. It's also great for gearheads that have an assortment of bags, cages, and straps to dial in whatever they plan to carry.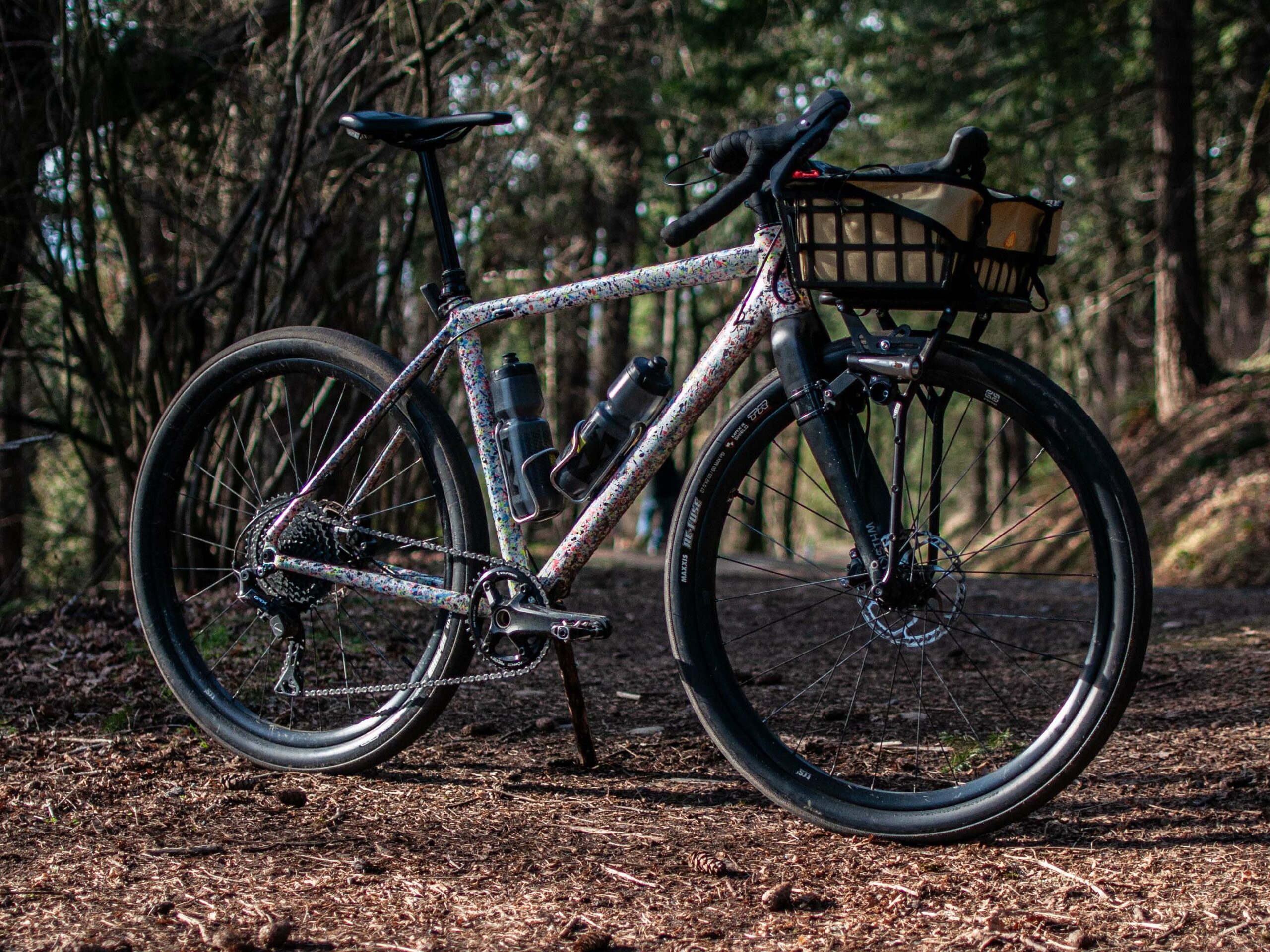 FRONT ELKHORN
An Elkhorn on the front gives you a ton of freedom to pack a variety of items without weighing down the bike too much with accessories. Run a basket or Rando bag on top with water on the sides, or leave the uprights empty with room to pick up gear on the way!
RECOMMENDED GEAR
Basket

Randoneur Bag

Mini Panniers
RECOMMENDED APPLICATIONS
Technical Routes / Lightweight setups
The Elkhorn over the front wheel gives you a ton of freedom to pack how you want, but also provides space for easy-access items and keeps your backend free of bulk for when you need to push! Plus when you utilize the uprights you can carry large quantities of water on those routes with less access.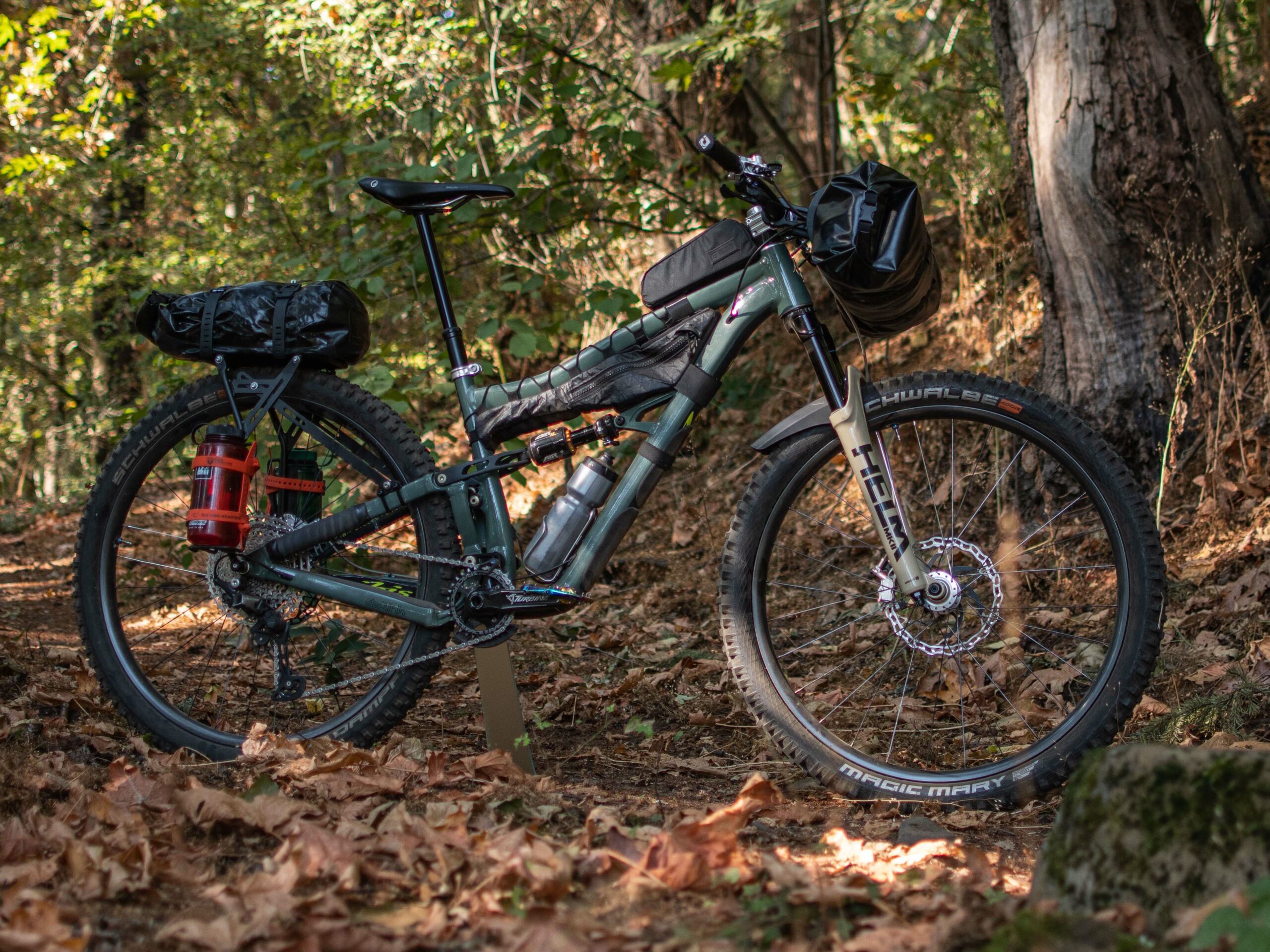 REAR ELKHORN
We use The Elkhorn on the rear to essentially replace our seatbags. This technique gives you a more stable platform for more volume, while allowing you to use your dropper more effectively when you need to maneuver your bike around. The 3-pack mounts on the side give you added versatility when you need to carry extra water/gear.
RECOMMENDED GEAR
Dry Bag w/ Voile

Mini Panniers
RECOMMENDED APPLICATIONS
Challenging Routes / technical terrain / light setups
We love to use this setup when we know we will be riding some advanced terrain, where you need freedom to use your dropper and move the bike around. The Elkhorn is sturdy and secure, meaning that you don't have to worry about your gear falling off or getting stuck in your wheel when things get deep.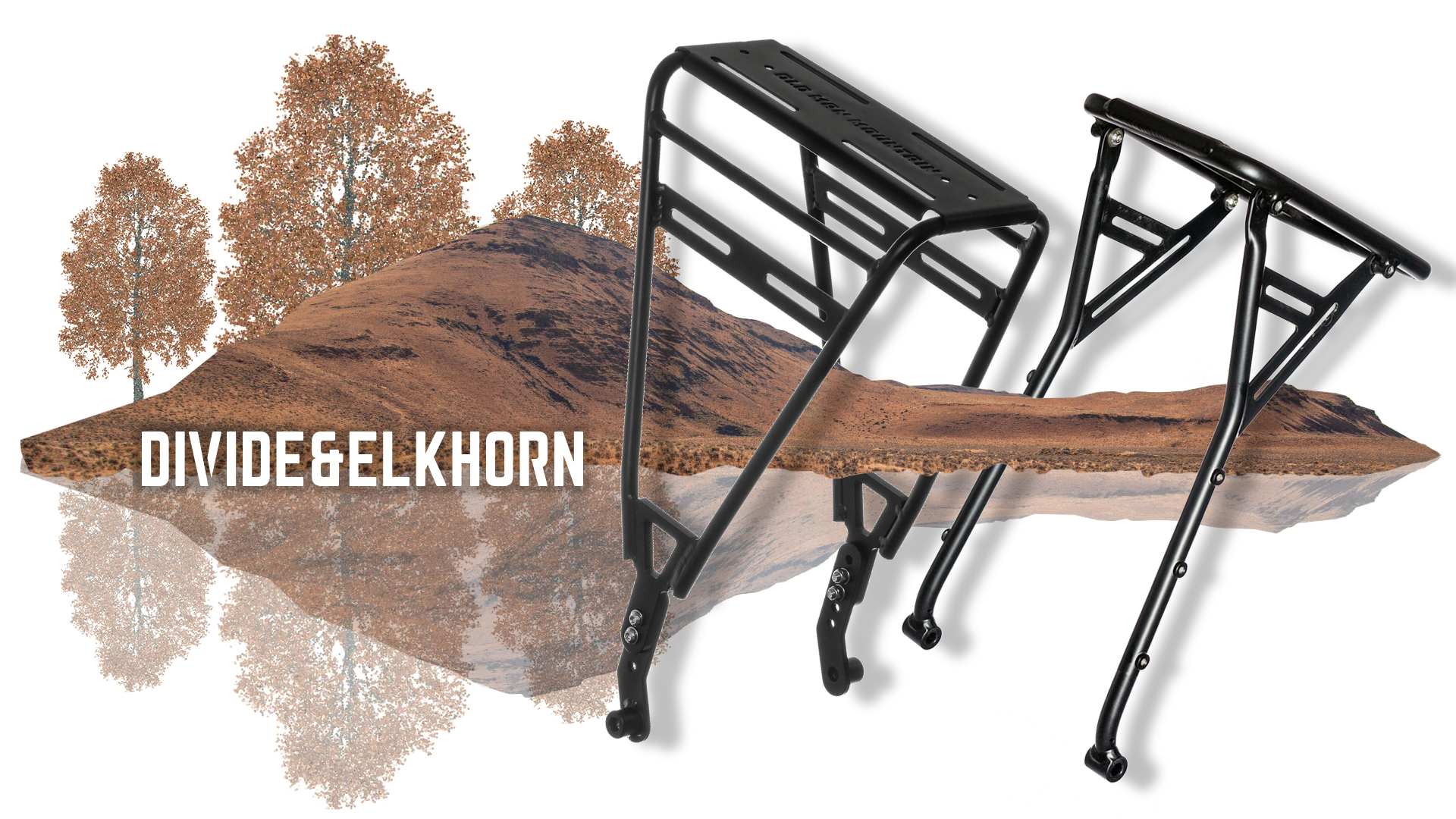 We find that mixing our two racks can provide some of the best setups. We encourage you to get creative with how you pack, but we love the mix & match.
Find setups that play into the strengths of each rack. Combine the versatility of the Elkhorn with the gear hauling capabilities of the Divide. Each rack gives you a unique platform and opens up new possibilities. Together they make for an awesome pair.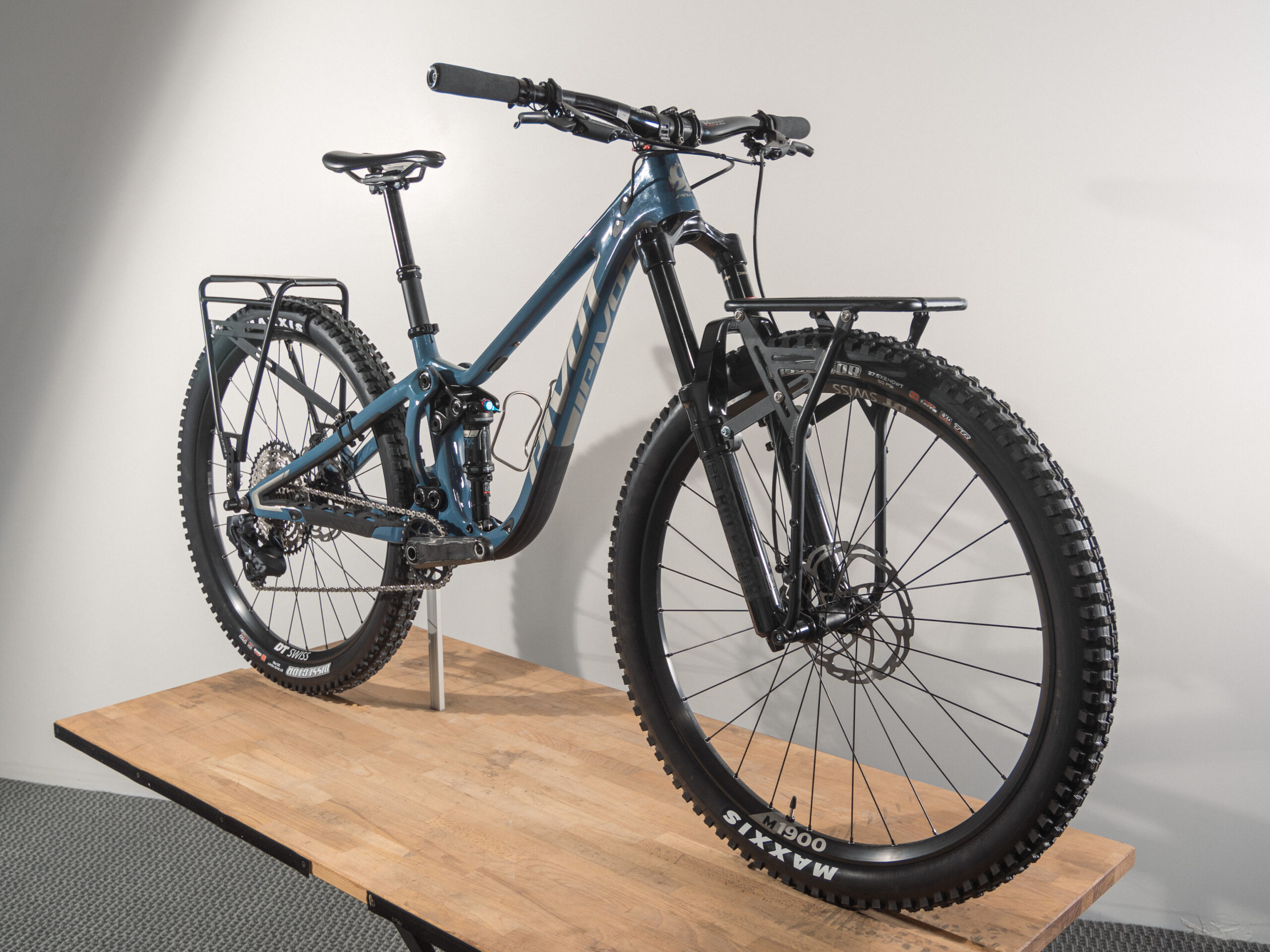 ELKHORN FRONT
& DIVIDE REAR
This setup gives you the easy access of the larger Elkhorn deck up front, with the pannier capability of the rear. This is great for a rando style setup, with tons of storage. Ideal for when snacking and photos are top priority!
RECOMMENDED GEAR
RECOMMENDED APPLICATIONS
Camp focused trips / long saddle days / photo heavy trips
We love this setup for when you need some easy access gear, but also a ton of volume. You can utilize the panniers on the rear for all your bulky camp items, then use the front for your camera, snacks, and extra layers for the ride.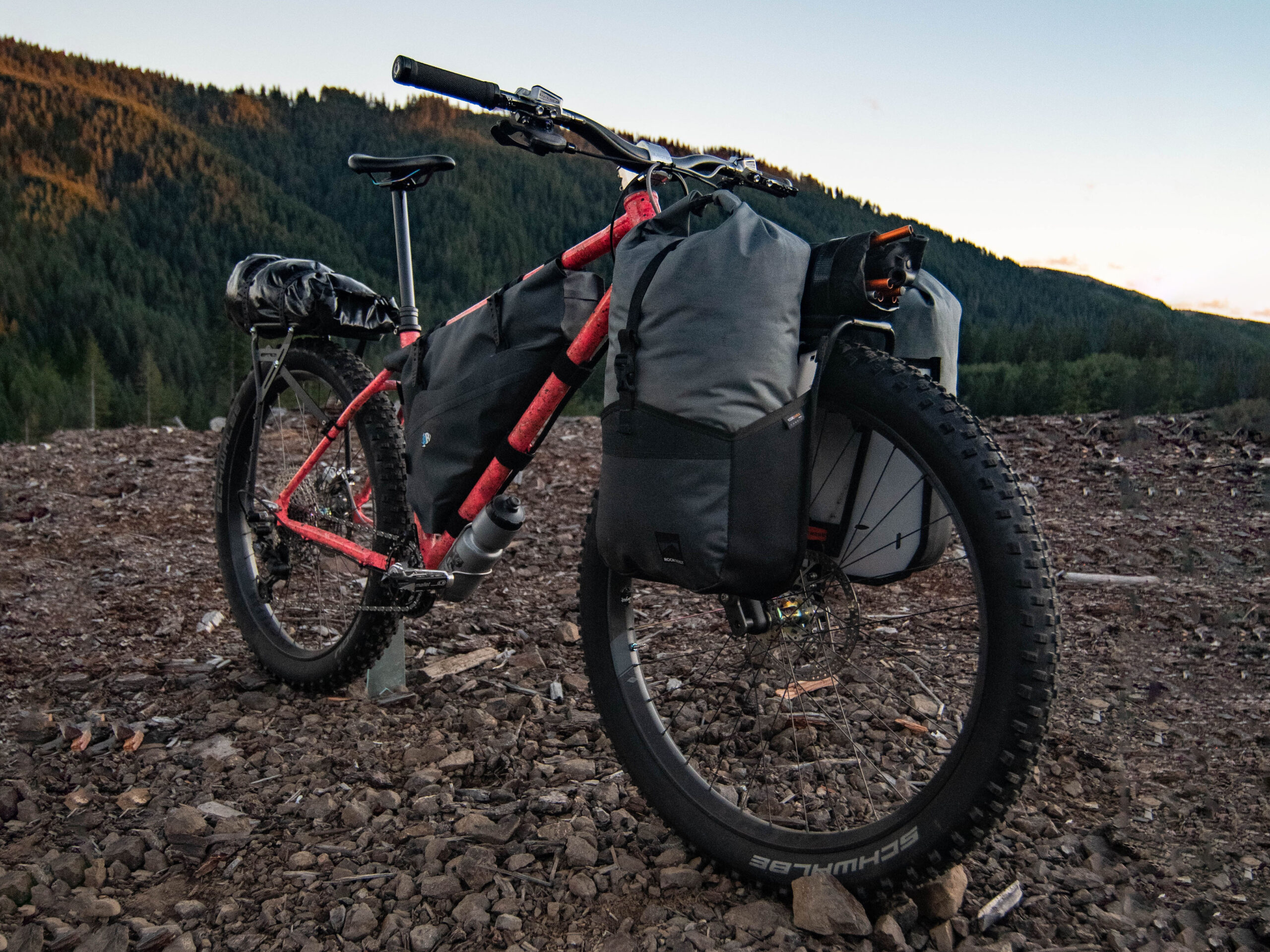 DIVIDE FRONT
& ELKHORN REAR
We love this setup for trips where you need a lot of space, but also will be hiking your bike frequently. Panniers up front help you carry your large bulky items, while a trunk bag or dry bag on the rear can hold your heavier camp items without interfering with your ability to hike your bike. You can leave some naked cages on the rear and bring along voile straps if you plan to pick up extra gear along the way!
RECOMMENDED GEAR
Front Dry Bag

Rear Dry Bag
RECOMMENDED APPLICATIONS
Challenging routes where more gear is required
We love this setup for when you are doing more challenging routes, but still need ample space for gear. It can be harder to balance the weight, but with a little extra care when planning, you can get things feeling solid. The ability to hike a bike without bumping your legs on bags or bottles is nice!