Words by Kait Boyle with Photos by Will Stubblefield
Why would we load our bikes with backcountry skiing and winter camping gear for 3 days and pedal from home to go skiing and winter camping?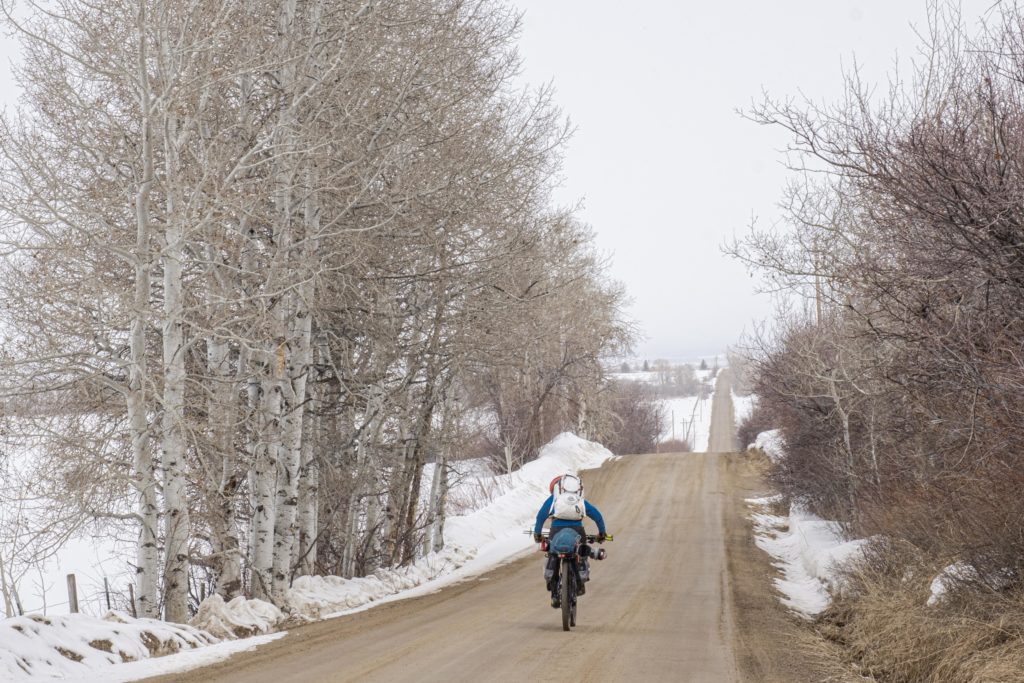 As a mountain biker and a backcountry skier, I care about the condition of the environment. Healthy living forests, reliable water sources, and stable trails make my experience on the mountain bike possible. Cold winters, regular winter storms, and deep snowpacks make for a long, blissful season of backcountry skiing in the Tetons. I also know that as an individual, I have power over my impact on climate and can participate in climate activism so that I and generations to come can experience biking and skiing as we do today. 
I recognize that as a recreationalist, it's the access and travel to my sport that can have the largest footprint whether it's flying to a destination or driving daily to trailheads. I also know that there isn't perfect climate action, we can show up and do our best and that makes a difference. We don't need to quit driving cars or flying to make a difference, but we can choose how far and how often we use gas powered vehicles to get somewhere – it does add up! So to help raise awareness of how climate change impacts our recreational experience and our power as the Outdoor State to make a difference, I joined in on the Protect Our Winters "Crush It For Climate" campaign in March. I challenged myself to replace my car with my bike at least once a week and for that effort to culminate in a human-powered multi-day ski trip from home.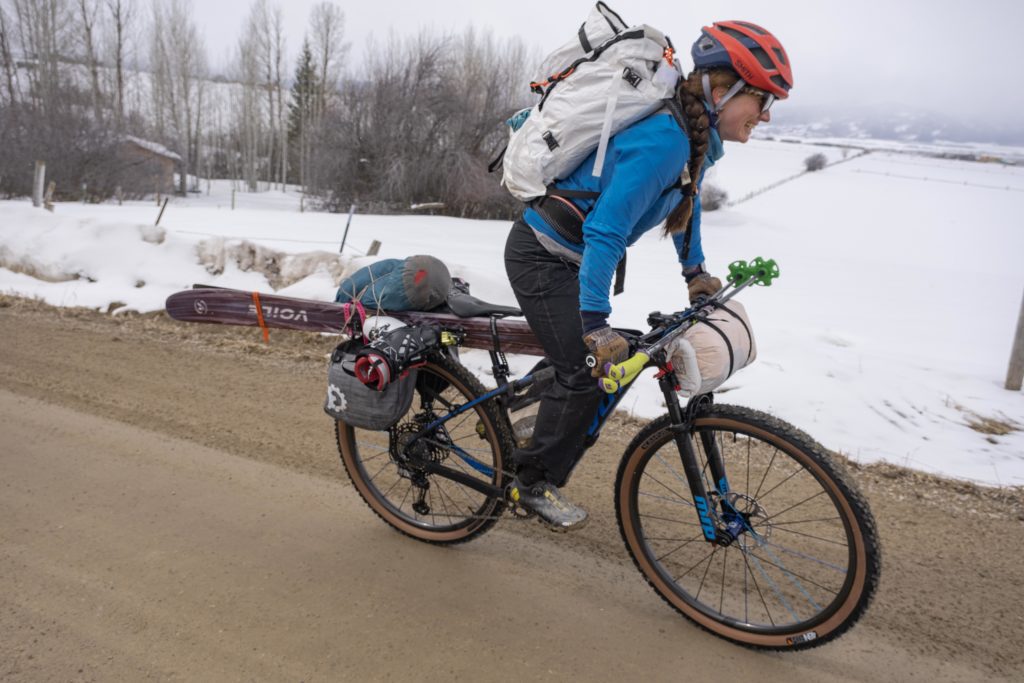 So, as March was coming to an end my partner and I outfitted our carbon-frame hardtail mountain bikes with Sherpa racks and loaded up our backcountry skiing and winter camping gear. We swung our legs over our bikes in our driveways and pedaled away from our house and parked cars with three days of food and just enough stuff to stay warm and dry in a spring mountain storm. The 18 mile dirt road ride took longer than normal – we could feel the weight of all the gear we carried as we cruised through the Teton Valley. But in this case, longer just meant more time to enjoy the ride and notice every change of incline between our house and the winter trailhead where we'd transition to skis. At the end of the plowed road we unloaded our bikes, filled our packs, stepped into ski boots and onto skis, and stowed our bikes in a thickly treed area a few hundred yards away from the trailhead where we knew they wouldn't be bothered. We'd be back for them two days later, with less weight and a slightly more downhill ride back home. 
Four hours of skinning and breaking trail through fresh snow led us far enough up the North Fork of Teton Canyon to call it a day. The trail breaking was deep and slow, and our legs were tired from the loaded ride and skinning through heavy spring snow at the lower elevations. We set up our mid under a large Subalpine Fir for additional shelter from the continuing snowstorm, made a quick dinner of hot ramen and fell asleep fully content: we had moved every mile from our house to lay down here to sleep deep in the snow, far from other people, in the land where bears were starting to stir from their winter long slumber.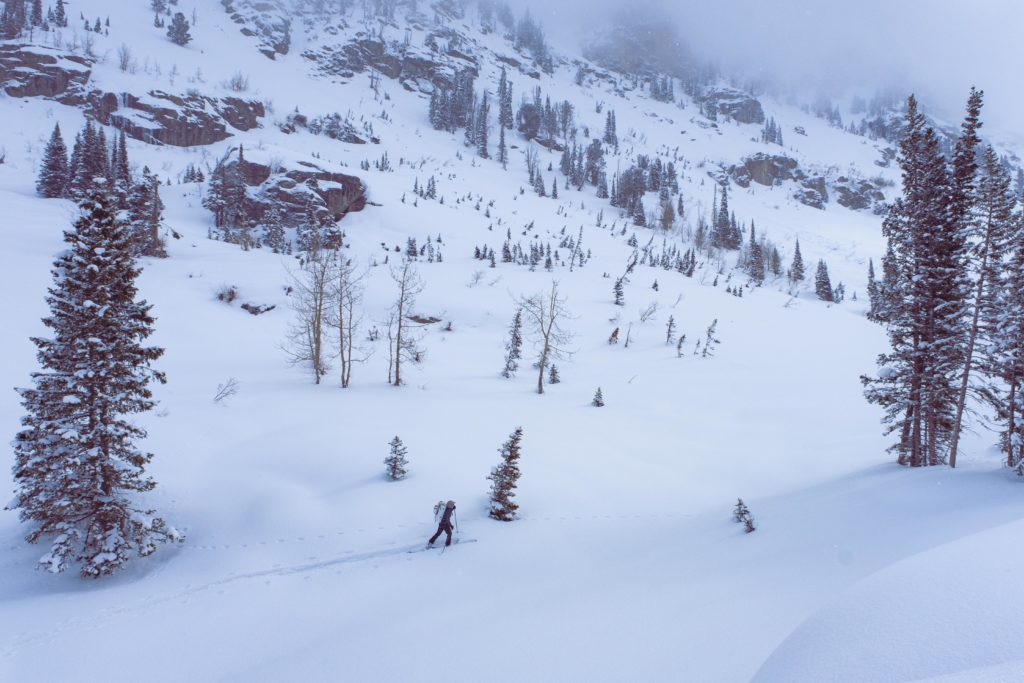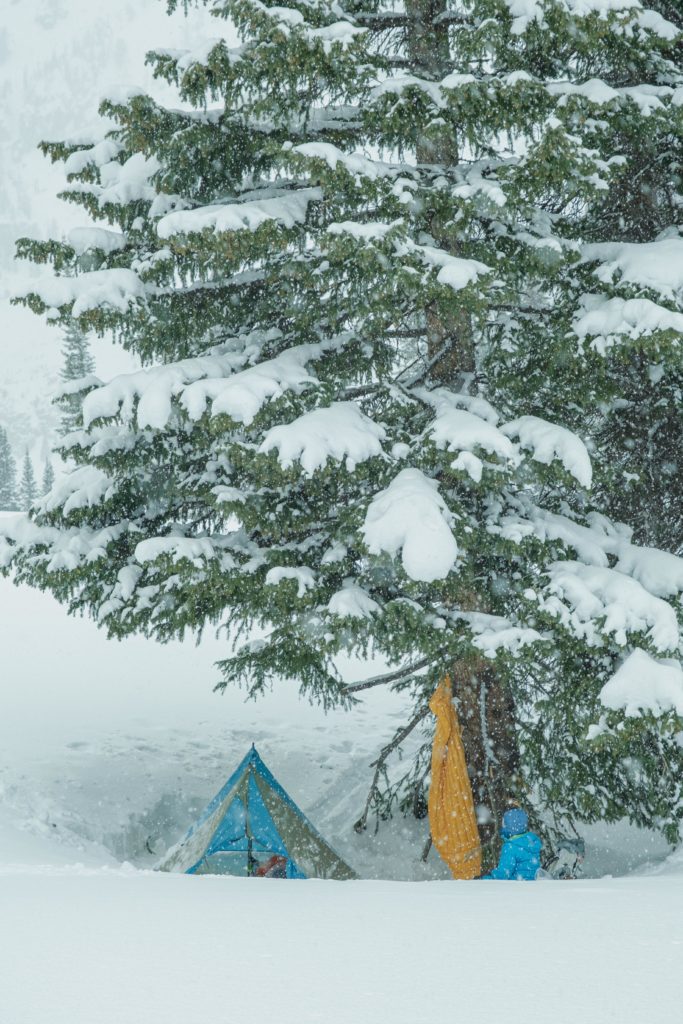 We moved camp higher in the morning to access our desired ski terrain and set up for summiting Table Mountain the following morning. After finding another large Subalpine Fir to set up under we stowed our camping gear under the shelter and climbed up to the shoulder of Table to do some skiing. We spent the afternoon lapping north facing slopes in some of the deepest powder snow of the entire winter. A hot meal of mashed potatoes, cheese and sausage warmed our bellies  and we again fell asleep with happy hearts and tired bodies to the sound of snow sprinkling the tent walls.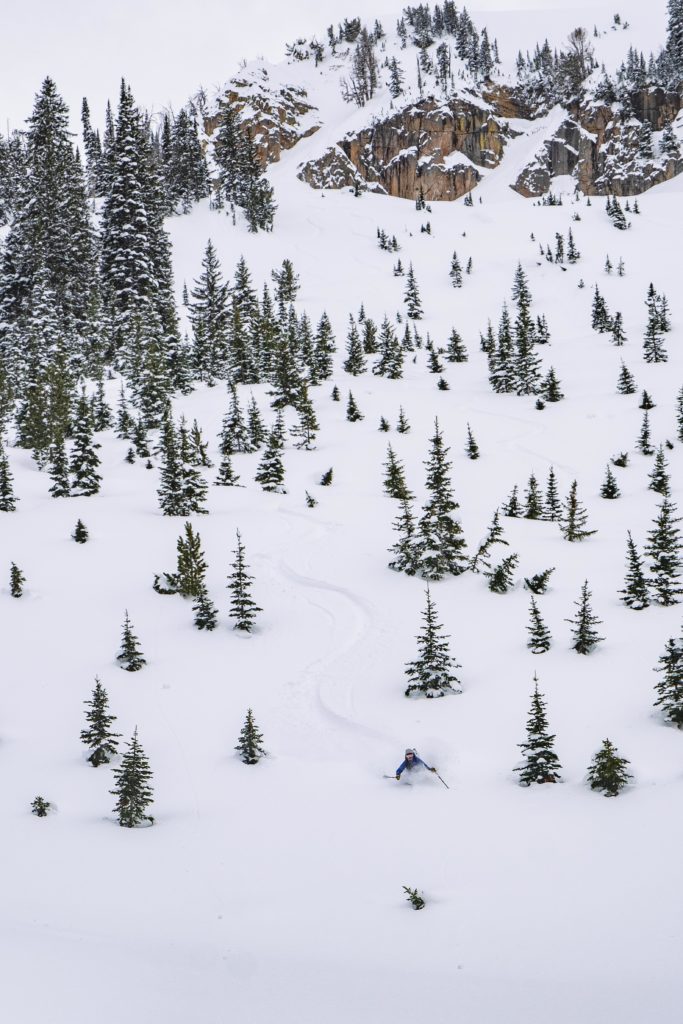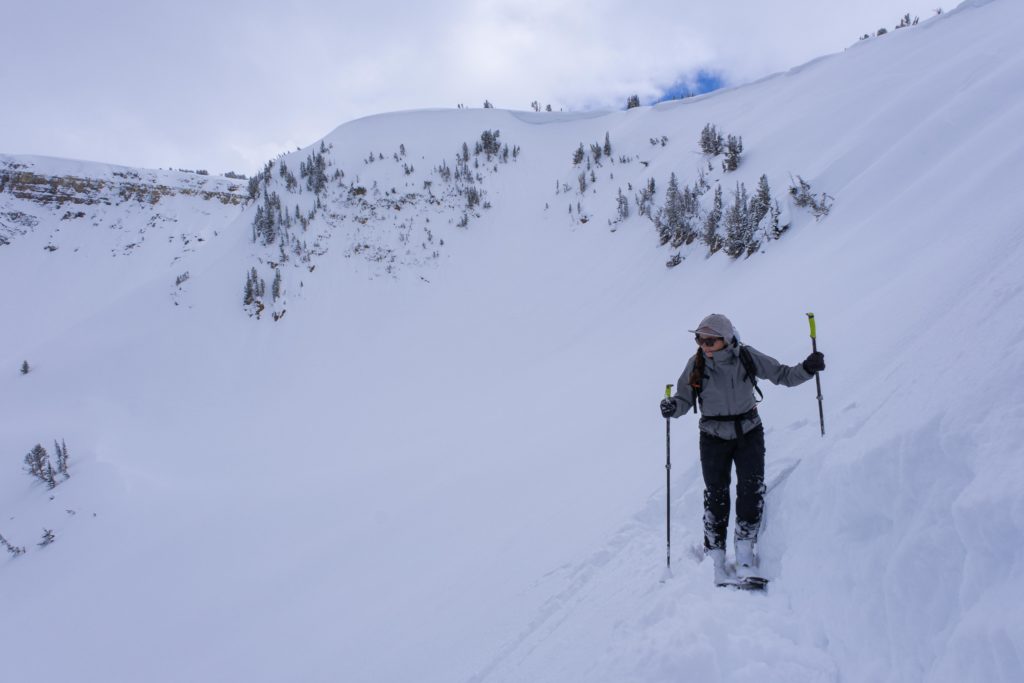 On the third morning we woke up to more snowfall. Low on food, we drank coffee and packed up with rationing snacks on our minds. In our haste to pack and get rolling from home we had forgotten how many calories the body demands just to be warm and active while snow camping. We knew we'd be fine, just a little hungry. After packing up camp we continued up the drainage, heading for the head of the North Fork of Teton Canyon to access Table Mountain at 11,106'. Our house is at 6,200' and I was really excited to stand so high above home and then descend all the way back down, ending at our house that afternoon.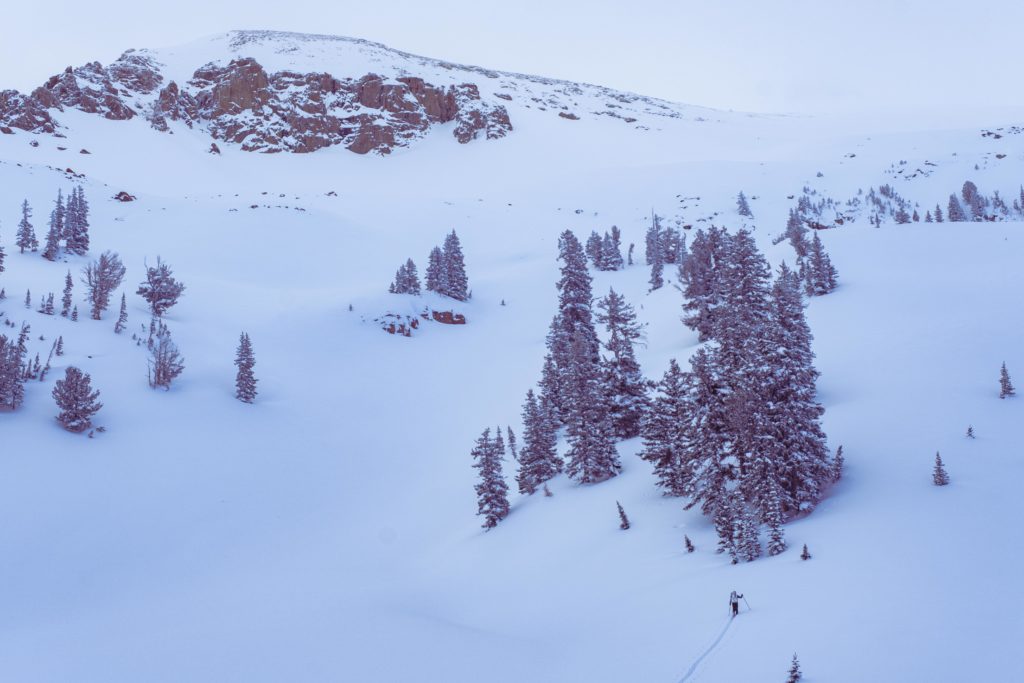 It had been snowing for the whole trip. In fact, despite being within sight of Table Mountain since we got into the mountains, we only caught a couple glimpses of the summit as broken clouds passed by. The storm was forecasted to clear overnight, but clouds continued to stack against the Tetons through the morning as we climbed higher and higher and visibility got poorer. Working our way up benches to bypass cliff bands became tricky as the light became too flat to perceive depth or slope angle. After Will blindly stepped into a hole and dropped 10' without having any idea the ground would disappear, we decided to return the way we came and leave Table for another day. We still had a long ways to return home and pizza was on our mind.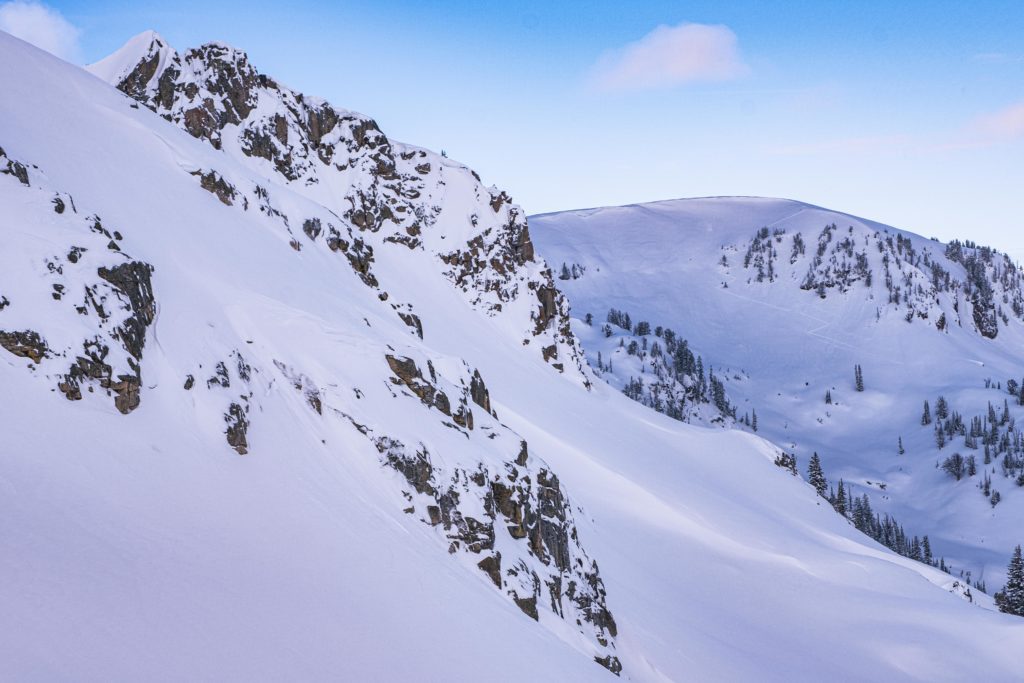 We ripped skis and pointed them down the canyon. What took us days to ascend went by in just an hour. Before we knew it we were skating out Teton Canyon in the sunshine, passing dozens of people enjoying a beautiful spring day. At the trailhead we collected our bikes and took a moment to sit on a patch of dirt in the sun and air out our feet. The smell of pine duff and raw earth overpowered the stink of ski boot feet and we savored the feeling of baking in the sun after being marginally cold for two full days. Our skis and gear were strapped back on our bikes and we pedaled away from the trailhead overflowing with dozens of cars. Flying down the pavement away from the Tetons was exhilarating as we cruised at 25 mph with traffic, getting honks and waves from skiers driving by. 
The pedal along dirt farm roads was faster than the way there, we were out of food and trending downhill. But it was slow enough that we could process our journey and reconnect with the landscape that connects our house to the mountains. I announced it was my last day of skiing this season and that here on was bike season. It felt like the perfect, most appropriate way to transition seasons.